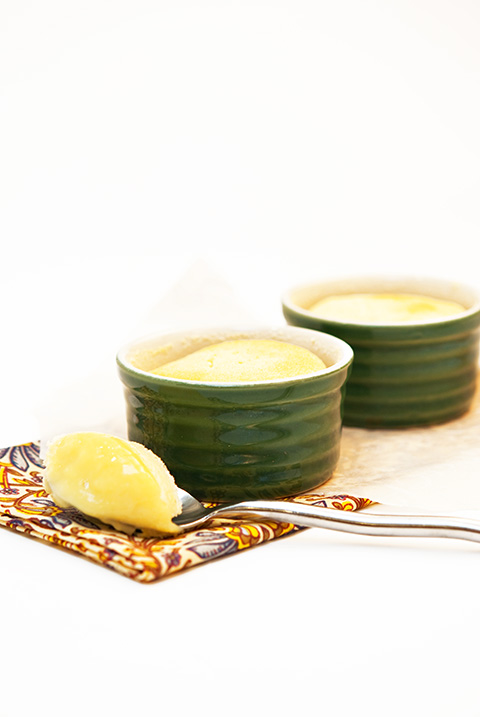 Lemon Budino is delicious. It is a cross between tart and creamy lemon curd and a soft, light and airy genoise cake. I made this for the first time about seven years ago, fully expecting it not to turn out. Not only did it exceed my expectations in flavor, texture and appearance, but it was really simple to make! The first spoonful of Lemon Budino is a culinary delight. The dessert has two very distinct layers of creamy lemon custard and soft sponge like cake, and each spoonful is light airy and utterly delicious. Lemon Budino is the perfect dessert to make ahead of time for summer parties or to enjoy with a glass of white wine on the patio.
No dessert would be complete without the addition of Beanilla vanilla beans. I chose to incorporate Indian vanilla beans into my Lemon Budino. Indian vanilla beans are very similar to Madagascar vanilla. These gourmet grade vanilla beans are huge and contain a very large abundance of seeds. Many will contest that the sweet woodsy flavor profile of these beans are superior to that of the Bourbon-Madagascar variety. India is fast emerging as a major vanilla producer, and vanilla beans cultivated in some parts of India are of the world's best! You will not find such high quality vanilla from India anywhere else. We take great pride in being able to offer such wonderful beans. Our current lot of Indian vanilla beans are organically grown too!
Vanilla Lemon Budino
Yields 6 3/4 cup servings
Ingredients:
1/2 cup superfine sugar
2 tablespoons superfine sugar
3 large eggs, separate yolks and whites
1/4 cup all purpose flour
1/4 cup freshly squeezed lemon juice
2 tablespoons lemon zest
1 Indian vanilla bean (scraped)
3/4 cup whole milk plus 2 tbsp.
1/4 tsp. salt
Directions:
Preheat oven to 350 degrees. In a bowl combine 1/2 cup sugar, egg yolks, flour, lemon juice, zest and vanilla bean scrapings. Whisk in milk until combined. Set aside.
In a stand mixer with a whisk attachment beat egg whites until frothy, add the remaining sugar. Beat until soft peaks form. Fold egg white mixture into lemon mixture very gently. Divide batter among the prepared ramekins.
Place ramekins into a 9x13 baking pan. Pour hot water into the pan until it is halfway up the sides of the ramekins. Bake for 30 minutes until golden brown and top springs back when touched lightly. Chill 2-4 hours and serve with fresh whipped cream.
Share your thoughts, leave a comment