Posted in Baking Recipes, Beverages, Drinks & Cocktails by Sarah
Vanilla Brown Sugar Hard Cider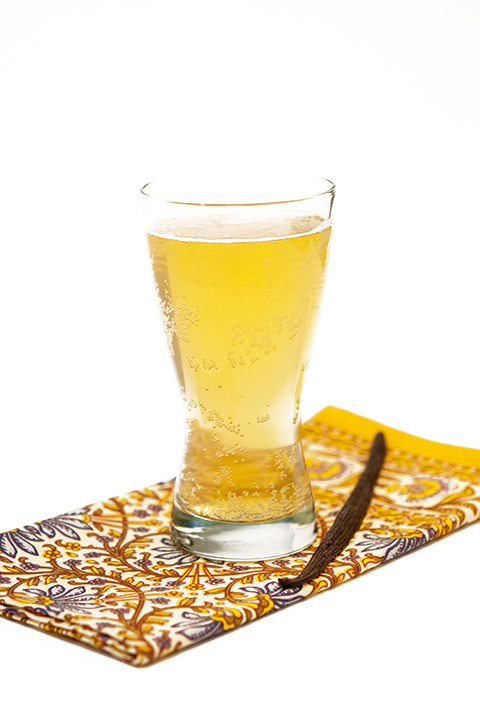 My husband and I are both very busy! Careers, home improvements, children, and dogs often leave us exhausted and with little time for ourselves as a couple. A few years ago we started incorporating one-on-one time into our daily routines. It may be as simple as standing in the kitchen chopping vegetables for dinner together to something as elaborate as remodeling a bathroom. The time apart from the daily stress of life brings us closer together and helps us function better as a team in our family life.
I try to take an avid interest in my husband's hobbies. Some (such as running and rebuilding cars) I leave to him, but when it comes to chemistry and food, I am more than willing to lend a helping hand. The craft of brewing and fermentation fascinates me. I think it is amazing that yeast, apple juice, and sugars can transform themselves into such a delicious and complex creation. Working for a vanilla company I am always looking for unique recipes and applications to pass on to you. When my husband suggested a hard cider for our next brewing project, I jumped at the prospect.
Hard cider is one of the simplest alcoholic beverages to create. Apple juice or cider, yeast, and a glass carboy is really all you need. We also added a brown sugar and vanilla simple syrup for interest and flavor. Pour apple juice, cooled brown sugar simple syrup into a glass carboy, sprinkle the yeast on top and four weeks later you have a cider that is ready for carbonation. The result is a slightly sweet, light and refreshing hard cider with notes of vanilla and brown sugar at the finish.
When choosing a vanilla for an application such as hard cider, you want to consider what you want the finish of the beverage to taste like. We added brown sugar simple syrup to add a depth and caramelized flavor to our creation along with our Organic Vanilla extract. Our Organic Vanilla Extract is made from a blend of select Bourbon vanillas used to create an equal balance of flavor and aroma. The perfect finish to this light and slightly sweet cider!
Share your thoughts, leave a comment!
← Previous Post
Next Post →