Flavored Simple Syrup Recipe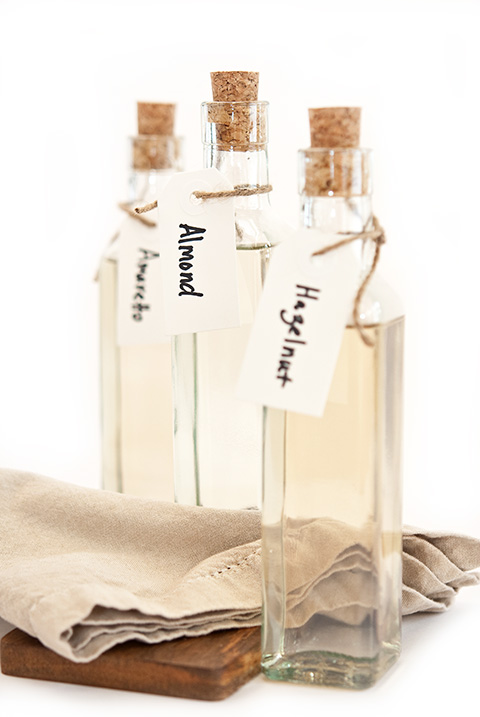 Raise your hand if you love coffee! Now raise your hand if you love your coffee with a splash of cream and a couple teaspoons of your favorite flavored syrup! I must admit I raised my hand. I love a perfectly made latte with vanilla syrup. But, they get expensive and I knew there was a simple and less expensive way to make my favorite drinks at home.
Flavored syrups are very simple to make. They are a combination of sugar, water and high quality extracts and flavorings. Begin with a basic simple syrup recipe; a one-to-one ratio of sugar and water simmered over medium heat until the sugar dissolves. The syrup is then cooled and poured into lidded glass or plastic containers. A small amount of your favorite extract is added to each container and the lid is placed on top. Shake slightly and add to your favorite drink. We chose flavors that pair well with coffee drinks, but you can add just about any extract to this flavored simple syrup recipe. Make a couple bottles for your next cocktail party to add to drinks. Strawberry, lime or cherry would be a delicious addition to just about any beverage!
Our extracts and flavorings are exquisite! Open the lid, and instantly be transported to your favorite island, strawberry field bursting with fresh ripe strawberries or lime groves with the sweet smell of citrus blossoms.
Flavored Simple Syrup Recipe
Ingredients:
Syrup Base:
3 cups

water

3 cups

sugar

1 1/2 tsp.

Pure almond extract

1 1/2 tsp.

Natural amaretto flavor

1 1/2 tsp.

Natural hazelnut flavor
Directions:
Place water and sugar into a medium sized saucepan. Bring to a low boil, continue the boil until all of the sugar has dissolved. Remove from heat, cool to room temperature. Divide among three lidded containers.
Add 1 1/2 tsp. of almond extract to the first bottle, 1 1/2 tsp. amaretto flavor to the second bottle and 1 1/2 tsp. hazelnut flavor to the third bottle. Place the lid on and gently shake to combine.
Share your thoughts, leave a comment