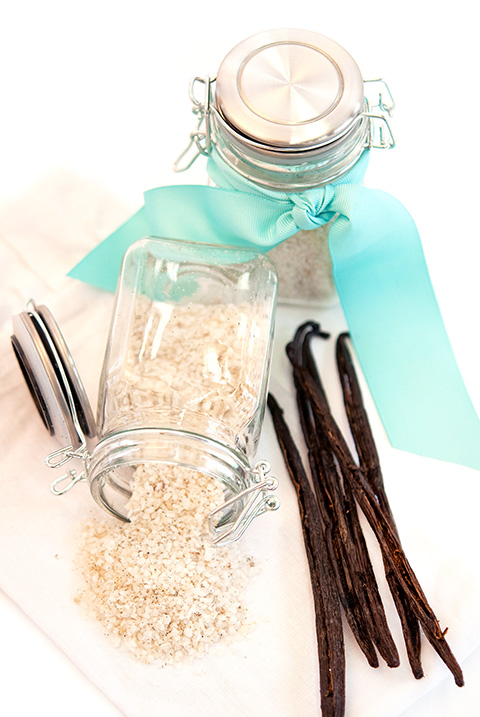 Sea salt is a relatively common seasoning found in most grocery stores, markets, and restaurants. This type of salt is often used to season dishes without overpowering the complex flavors of the food like iodized table salt sometimes will. While working on a recent project, I was astounded to learn that there is a very large variety of salts on the market today. Everything from black sea salt to salts from the volcanic ash of a mountain. After reviewing many of the salts, I realized just how versatile and flavorful salt can be. Beanilla sells vanilla Fleur de sel, and it is amazing! But we can't always wait for this delicious and versatile salt to be delivered to our door. We created a simple and delicious recipe that is the perfect gift for a hostess, as a parting gift at a wedding or kept in your pantry waiting for your next delicious creation!
Fleur de Sel ("Flower of Salt" in French) is hand-harvested sea salt that is formed at the surface of salt beds and collected by workers who scrape only the top layer of salt. Rich in minerals with superior flavor qualities, this salt is one of the most expensive salts in the world.
Sea salt is harvested in much the same way as Fleur de sel, however, sea salt can be harvested throughout the world and in much more abundance. This accounts for the lower cost and higher abundance of product. The briny flavor and high levels of minerals make sea salt and many of the variations of the salt desirable to chefs and cooks. A dish is easily finished with sea salt without overpowering the flavor of the food or rendering it too salty to eat. The only downfall to harvested sea salt is the absence of Iodine in the salt, necessary in our diets. Many companies, such as Trader Joe's and Whole Foods, now carry sea salt supplemented with Iodine.
Vanilla salt is so very versatile, and the sweet/savory flavor profile is the perfect addition to just about any dessert. Sprinkle on brownies, homemade caramels, popcorn, soft and chewy homemade pretzels or even in your favorite hot cocoa. Of course, you can't make vanilla sea salt without vanilla! Our Madagascar vanilla beans are perfect for this recipe. These vanilla beans are very distinct, with a flavor and aroma profile, unlike any other vanilla bean. Madagascar vanilla beans are processed using the "Bourbon" curing method. This technique typically produces vanilla beans with a higher moisture content that the salt will absorb. Our gourmet vanilla beans have a moisture content of roughly 33%.

Vanilla Salt Recipe
Ingredients:
1 cup

sea salt (coarse, fine or maldon)

4

Madagascar vanilla beans
Directions:
Place the sea salt in a mortar and pestle. Split and remove the vanilla bean seads (caviar) from four vanilla beans. Add the vanilla bean caviar to the salt. Grind the vanilla bean caviar into the salt with the pestle until the beans are dispersed throughout the salt.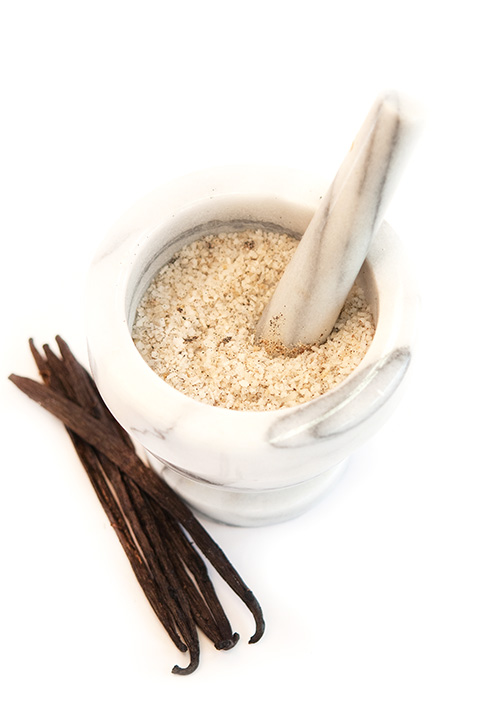 Place the salt in sealed glass containers, and let the containers sit undisturbed for 1 week. The flavor of the vanilla beans will permeate the salt and give you a more flavorful end result.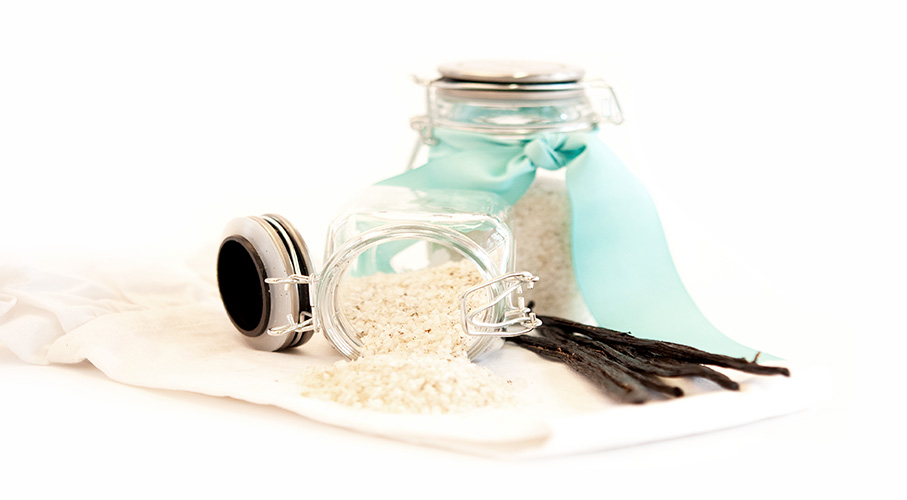 Share your thoughts, leave a comment