Posted in Baking Recipes, Cookies by Sarah
Coconut Madeleine Cookies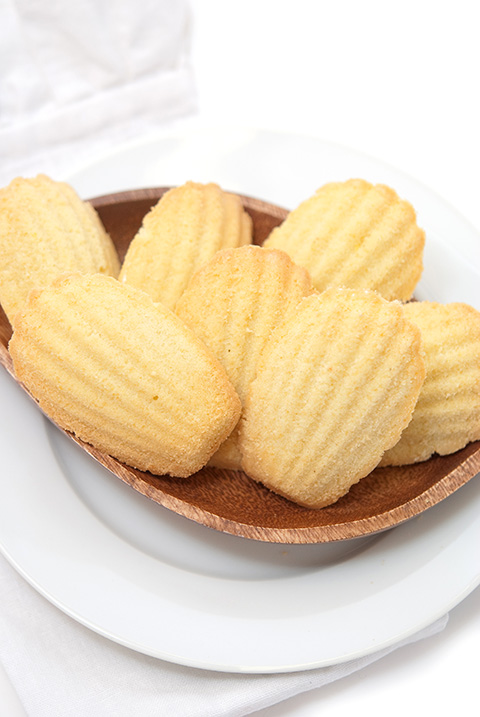 The children's book, Madeline, is a sweet story about a young girl and her escapades in Paris. It's a classic children's story that I have read to my daughter many, many times! As I baked the cookies, I imagined the spunky Madeline sitting down with her school mates, a spot of tea and a madeleine cookie in hand.
Madeleine cookies are said to originate in the Lorraine region of France. A young servant girl was asked to bake pastries for a royal gathering honoring the Duke of Lorraine. The result was a crisp outer edge with a soft, sponge-like cake interior. The shell-shaped cookie was a huge success and, ultimately, was named after the servant girl, Madeleine. The madeleine cookie is a beloved pastry, most often served as an afternoon snack with tea or cafe au lait. Dunking the cookie into the beverage moistens and enhances the cookie's texture.
Traditionally, the madeleine is vanilla in flavor, and occasionally orange flavoring is added or the cookie is dipped in chocolate. Tradition is wonderful, but sometimes it's fun to mix it up a bit. The addition of coconut flavor to the batter adds a pleasant but distinct coconut flavor to the cookie...absolutely delicious with a cup of coffee!
Our coconut flavoring is reminiscent of a tropical island. Sweet and creamy, not overpowering, with big coconut flavor! The perfect addition to any dessert or baked good, especially Madeleine's!
Share your thoughts, leave a comment!
← Previous Post
Next Post →