Posted in Baking Recipes, Cookies, Seasonal Baking Recipes by Sarah
Molasses Ginger Cookies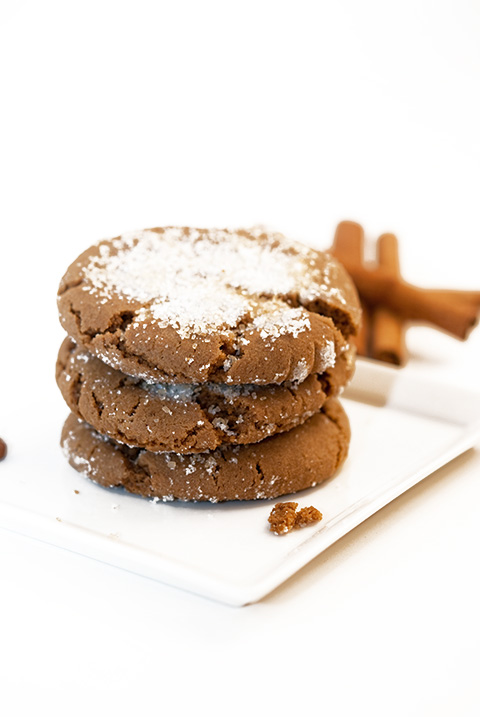 Molasses ginger cookies have always been one of my favorite cookies. I love the crispy edges, soft center and intense flavor. The rich intense flavor of molasses is the perfect complement to ground ginger and our natural ginger flavor. You can find molasses cookies in abundance during the holiday season. It seems as though everyone has their own version for this spicy and flavorful cookie. They tend to disappear, much like the elusive Peep or chocolate covered cherry, until the same time next year. Why not make them all year round? One type of this cookie I have consumed over the years is the classic boxed ginger cookie, hard and, well... hard!  These are useful for making crusts on cheesecakes and that's about it. The second type I have had is the cake cookie...puffy and light, but yet not quite there in the texture category for me. I prefer my molasses ginger cookies to be crunchy on the edges, but soft and chewy in the center. The addition of coarse sugar adds that crunch and texture every cookie needs!  If you're like me, this is the perfect cookie recipe for you!
The natural Ginger flavoring I used in the molasses ginger cookie is slightly sweet, yet pungent and spicy with lemon undertones. It will add some zing to your cookies! This versatile flavor is sure to be a perfect go-to natural flavoring all year round addition in both your sweet (molasses ginger cookies) and savory creations. Ginger pairs well with apples, bananas, beef, chicken, seafood, as well as many marinades and sauces. Natural Ginger Flavor is easy to use; no shredding or chopping necessary. Smooth, fresh and spicy ginger flavor in one easy pour.
Share your thoughts, leave a comment!
← Previous Post
Next Post →