How To Make Gingerbread Ornaments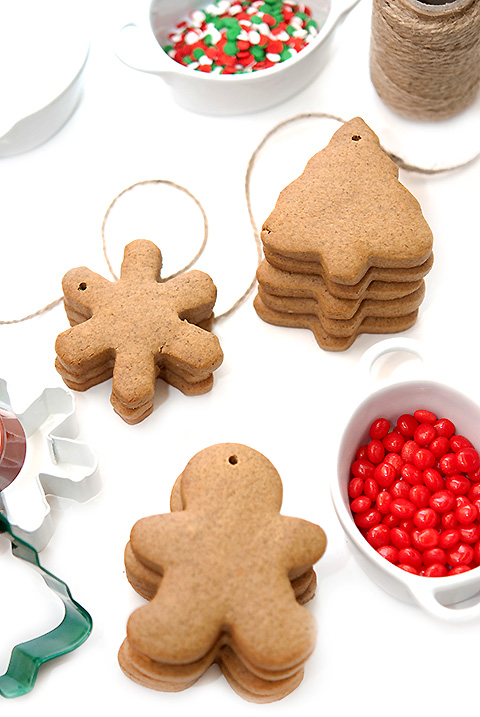 The tradition of cutting down an evergreen, placing it in a stand, lighting it up and garnishing it with ornaments began in the early 1600s. The evergreen symbolized life when every other tree had shed its leaves -- the evergreen remained green and lush. The very first holiday lights were candles, and they often symbolized loved ones, friends and family. Many of these first trees were decorated with fresh garlands of berries and baked cookies. Electricity introduced the first electrified strings of lights, and homemade ornaments of fruits and cookies were replaced with glass balls and molded plastic figurines. Many of these ornaments have been lovingly collected over the years, with each having a special meaning of a specific place or time in our lives.
While we certainly want to hang all of our treasured ornaments on our trees this year, why not add a new holiday tradition and add a few handcrafted gingerbread ornaments to the tree too? Gingerbread ornaments are so simple to make, and they are the perfect family project that can involve everyone from the oldest to the youngest members. Not only are they simple to make, but they add a wonderful holiday fragrance for your whole home! Spices of nutmeg, ginger, cloves, and cinnamon mingle with the robust flavors of molasses and dark brown sugar. The addition of cinnamon extract to our royal icing adds another level of depth and fragrance to the cookie. While these cookies are intended to be decorative, nothing in them is toxic, and your little helpers may want to sneak a bite or two. After you have decorated your cookies, string them through the hole in the top and hang them on the tree. If you do not have the heart to throw them away once the season is done, simply spray both sides of the cookies with a few light coats of clear spray polyurethane. Let dry and layer them in a sealable plastic container for next year.
Our Natural Cinnamon Flavor is a high quality flavoring that tastes and smells like freshly ground cinnamon. The wonderful aroma is sure to make your home smell like the holidays!
Cinnamon Gingerbread Ornaments Recipe
Yields 24 average size cookies
Ingredients:
5

cups all-purpose flour

3 1/2

teaspoons ground ginger

3/4

tablespoon ground cinnamon

1

teaspoon ground nutmeg

1/2

teaspoon ground cloves

1

teaspoon salt

1/2

teaspoon baking soda

16

tablespoons (2 sticks) unsalted butter, softened

2/3 cup

firmly packed dark brown sugar

2 large

eggs

2/3 cup

molasses
Directions:
In a large bowl, combine the flour, spices, salt and baking soda. Whisk to combine.
Place the butter and brown sugar in the bowl of a standing electric mixer fitted with the paddle attachment and beat on medium speed until well mixed. Add eggs, one at a time, beating smooth after each egg is added. Scrape down bowl and paddle.
Lower speed and add in about half the flour mixture. Add the molasses, then scrape the bowl and beater. Add the remaining flour mixture, about 1 cup at a time, and beat after each addition until it has all been incorporated into the dough.
Place half the dough onto a large piece of plastic wrap and press it to about a 1/2-inch thickness. Wrap the dough securely and repeat with the remaining dough. Chill the dough for at least 2 hours or for up to 3 days.
Preheat the oven to 350 degrees. Prepare two baking sheets and line with parchment or a silpat.
Cut refrigerated dough in half and re-wrap the second half, place in fridge.
On a floured surface, roll the dough until it is about 1/4-inch thick. Use a floured cookie cutter to cut the cookies. As they are cut, place the cut cookies on the prepared pans with about 1 inch between them on all sides. Repeat with remaining dough. Save, press together, and re-roll remaining pieces of dough (they don't need to be chilled before re-rolling).
Bake the cookies until they become dull and dry looking and feel slightly firm, about 12 to 15 minutes. When they are removed from the oven, immediately use the rounded end of a skewer to place a hole in the cookie for the ribbon or string to thread through! Decorate when cool or store the cooled cookies between sheets of parchment or wax paper in a tin or plastic container with a tight-fitting cover.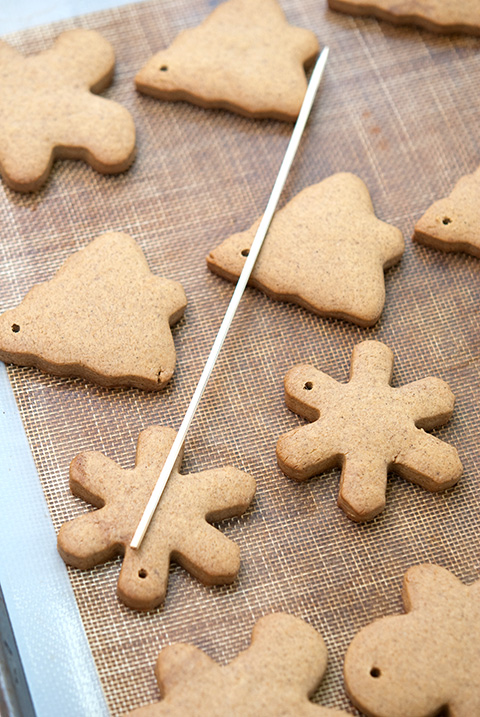 Royal Icing
Adapted from Martha Stewart Living
Ingredients:
1 pound of confectioners' sugar
2 large egg whites
1 tsp. natural cinnamon flavor
½ tsp. Beanilla vanilla bean paste (double fold)
Directions:
In the bowl of an electric mixer fitted with the paddle attachment, combine the sugar and egg whites.
Mixing on low speed, add up to 1/2 cup water depending on the desired consistency. Add in the cinnamon extract and Beanilla vanilla bean paste. Mix until icing holds a ribbon-like trail on the surface of the mixture for 5 seconds when you raise the paddle.
Place the icing in different piping bags with a small tip for tracing the contours and a larger one for filling each shape.
Share your thoughts, leave a comment