Posted in Baking Recipes, Cookies, Seasonal Baking Recipes by Sarah
How To Make Gingerbread Ornaments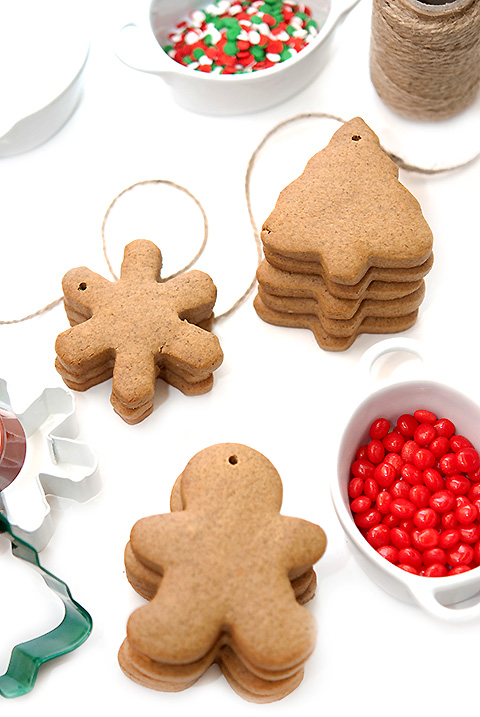 The tradition of cutting down an evergreen, placing it in a stand, lighting it up and garnishing it with ornaments began in the early 1600s. The evergreen symbolized life when every other tree had shed its leaves -- the evergreen remained green and lush. The very first holiday lights were candles, and they often symbolized loved ones, friends and family. Many of these first trees were decorated with fresh garlands of berries and baked cookies. Electricity introduced the first electrified strings of lights, and homemade ornaments of fruits and cookies were replaced with glass balls and molded plastic figurines. Many of these ornaments have been lovingly collected over the years, with each having a special meaning of a specific place or time in our lives.
While we certainly want to hang all of our treasured ornaments on our trees this year, why not add a new holiday tradition and add a few handcrafted gingerbread ornaments to the tree too? Gingerbread ornaments are so simple to make, and they are the perfect family project that can involve everyone from the oldest to the youngest members. Not only are they simple to make, but they add a wonderful holiday fragrance for your whole home! Spices of nutmeg, ginger, cloves, and cinnamon mingle with the robust flavors of molasses and dark brown sugar. The addition of cinnamon extract to our royal icing adds another level of depth and fragrance to the cookie. While these cookies are intended to be decorative, nothing in them is toxic, and your little helpers may want to sneak a bite or two. After you have decorated your cookies, string them through the hole in the top and hang them on the tree. If you do not have the heart to throw them away once the season is done, simply spray both sides of the cookies with a few light coats of clear spray polyurethane. Let dry and layer them in a sealable plastic container for next year.
Our Natural Cinnamon Flavor is a high quality flavoring that tastes and smells like freshly ground cinnamon. The wonderful aroma is sure to make your home smell like the holidays!
Share your thoughts, leave a comment!
← Previous Post
Next Post →