Cranberry Orange Rum Cocktail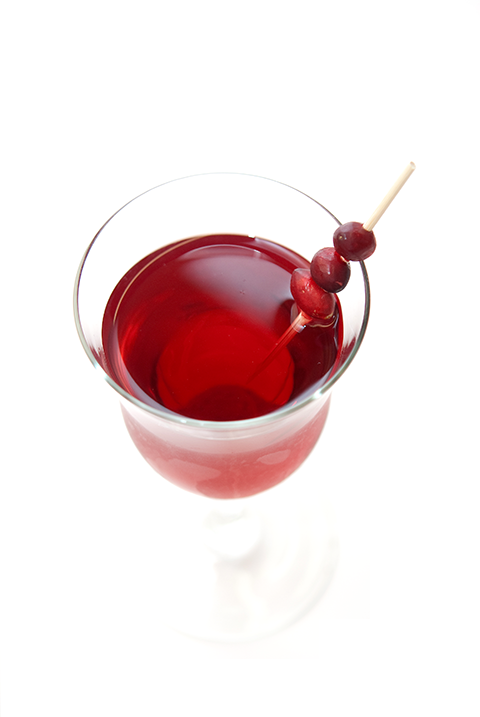 While many of us will have no problem planning the timing of our turkey, whipping up creamy mashed potatoes and baking a creamy green bean casserole, we often forget about the beverages. Soda is perfectly acceptable, juice and milk have their place and even a good bottle of red wine is essential to a well-rounded feast, but have you thought about a signature cocktail?
Cranberry orange rum cocktail brings a sense of elegance and whimsy to a holiday table. Serve it before dinner with a light appetizer or after dinner as an accompaniment to delicious pecan pie. Cranberries are not only deliciously tart, but have a long history at the holiday table. Cranberries date back to the American Indians. They were called by many different names, but ultimately the name cranberry was adopted by early European settlers. The cranberry is one of only three species of fruit indigenous to the United States. It's fitting that they grace the table at our Thanksgiving feasts.
American Indians used the berries as a source of food. They believed that the berries had medicinal properties and even used the juice of the berries to dye clothing. During the first and second world wars, thousands of pounds of cranberries were dried and sent to troops that were deployed overseas as a portable and nutritious snack. Today we primarily see the fresh cranberry used in jellies and relishes that grace our holiday tables.
Many cranberry sauces and relishes incorporate citrus into the recipe, and orange is always a crowd pleasing favorite. Our cranberry orange rum cocktail incorporates the fresh taste of a ripe juicy orange with our concentrated Orange Extract. Bright, bold and bursting with fresh orange flavor, our extract won't dilute or water down your favorite drink like fresh juice will. The result is a beautiful orange flavor that highlights the tart sweetness of the cranberry juice and the warm spice of the rum.
Cranberry Orange Rum Cocktail
Yields 4
Ingredients:
6 cups

cranberry juice

3 tsp.

Natural Orange Extract

1 1/2 cups

spiced rum
Directions:
Pour the cranberry juice, orange extract and rum into a glass pitcher. Stir to combine, chill 4-6 hours.
Share your thoughts, leave a comment