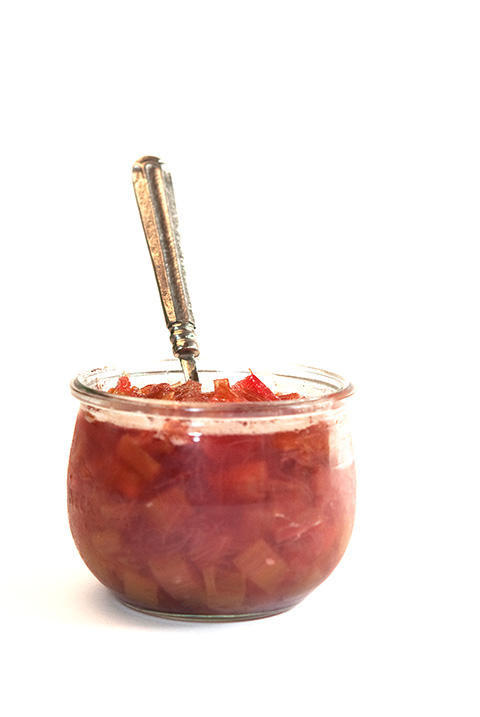 Rhubarb is a versatile fruit. The plant itself is nothing spectacular; huge leaves cover bright red and pink stalks. One plant can produce many pounds of rhubarb, and more than one plant can take over your garden. The leaves are toxic to humans and pets, but the stalk is beautiful and tart. The extreme tartness of fresh rhubarb begs for the addition of sugar and it is perfectly suited for sweet applications. Ginger Rhubarb compote can be utilized in a variety of ways. Here are a few of my favorites...

Rhubarb shortcake- Slice one sweet biscuit in half and top with 1/4 cup of ginger rhubarb compote, spoon on fresh whipped cream and place second half of biscuit on top.
Rhubarb

Eton Mess

- A classic English dessert. Layer fresh whipped cream with a rhubarb compote and crushed meringue cookies. Continue until parfait glass has been filled.
Tahitian vanilla ice cream- Make your own rich and creamy Tahitian vanilla bean ice cream (using Beanilla Tahitian vanilla beans), and spoon on ginger rhubarb compote.
Oatmeal- Top your morning bowl of oatmeal with delicious ginger rhubarb compote. Oatmeal has never been so exciting!
The addition of our natural ginger flavor adds a zing to the intense and bold flavor of the rhubarb ginger sauce. Slightly sweet yet pungent, spicy with lemon undertones, our Natural Ginger Flavor will add some zing to your cooking! This versatile flavor is sure to be a perfect go-to all year round addition in sweet and savory dishes alike. Ginger pairs well with apples, bananas, beef, chicken, seafood, as well as many marinades and sauces. Natural Ginger Flavor is easy to use; no shredding or chopping necessary. Smooth, fresh ginger flavor in one easy pour. Broaden your culinary horizons and try some Natural Ginger Flavor today!
Ginger Rhubarb Compote
Yields 2 cups
Ingredients:
1 pound

rhubarb, diced into 1-2 inch pieces

3/4 cup

sugar

1

Tahitian vanilla bean, split and scraped

1/2 tsp.

natural ginger flavor
Directions:
Dice 1 pound of fresh and washed rhubarb. Place rhubarb in a medium saucepan with sugar, vanilla bean scrapings and ginger extract. Bring to a simmer on medium heat and cook for 10 minutes until sugar has dissolved and rhubarb is tender. Let cool to room temperature and place in a lidded container. The compote will keep in the refrigerator for 7-10 days.
Share your thoughts, leave a comment