Posted in Baking Recipes, Chocolate, Seasonal Baking Recipes, Pastries & Tarts, Pumpkin by Sarah
Pumpkin Pie Chocolate Tarts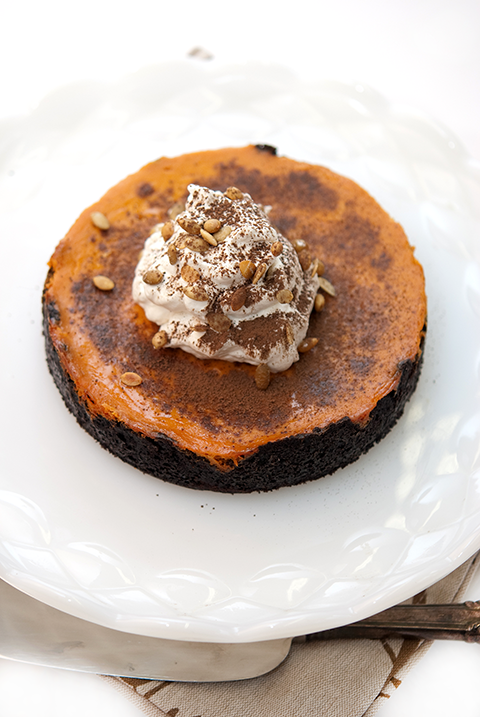 Thanksgiving is right around the corner--are you ready? We at Beanilla are so excited for the holiday season! Not only is it our busiest time of the year, but also our favorite. Cookies, pies, candies or just about any baked good or pastry you can create is our forte. The addition of our high quality vanilla beans, extracts, vanilla sugar and vanilla salt can bring your desserts to a whole new level of deliciousness!
Speaking of delicious, who doesn't love pumpkin pie?! Although this pie only seems to hang around for a brief time during the holiday season, it is almost always a staple on the holiday dinner table. Traditionally baked in a flaky rolled pie crust and garnished with a dollop of creamy whipped cream, the creamy custard-like texture is unique and quintessentially Thanksgiving!
We all love and value the tradition that surrounds our individual holiday celebrations. Whether it is grandma's perfect turkey dressing or even the canned-shaped cranberry dressing, sometimes a break from tradition is a welcome change. Introducing one new dish or dessert to the table each year can keep your celebration interesting while still maintaining your family traditions.
Pumpkin pie chocolate tart brings all the familiar flavors of traditional pumpkin pie with a twist. A chocolate wafer crust and vanilla bean whipped cream, plus a sprinkling of roasted pumpkin seeds is just gourmet enough to satisfy the foodie relatives while happily accommodating the pumpkin pie purist.
Smooth pumpkin custard is cradled by a crunchy layer of rich chocolate cookie wafers, but no dessert is complete without the addition of vanilla extract--Tahitian vanilla extract to be exact! Our Tahitian vanilla extract-double fold adds a sweet floral flavor to the pumpkin filling and compliments the dark chocolate crust perfectly. True Tahitian vanilla comes from the Island of Tahiti. The beans are picked while unripe and laid to dry in batches in the sun. The result is a soft and pliable vanilla bean bursting with flavor and vanilla bean seeds. Beanilla uses pure Tahitian vanilla beans in our extract, and the double fold extract contains twice the amount of beans of our single fold. The result is a bold vanilla flavor, perfect for all your holiday baking needs!
Share your thoughts, leave a comment!
← Previous Post
Next Post →