Posted in Baking Recipes, Cheesecake, Candy, Snacks & Treats, Brownies & Bars, Seasonal Baking Recipes, Pumpkin by Sarah
Pumpkin Cheesecake Squares with Pepita Brittle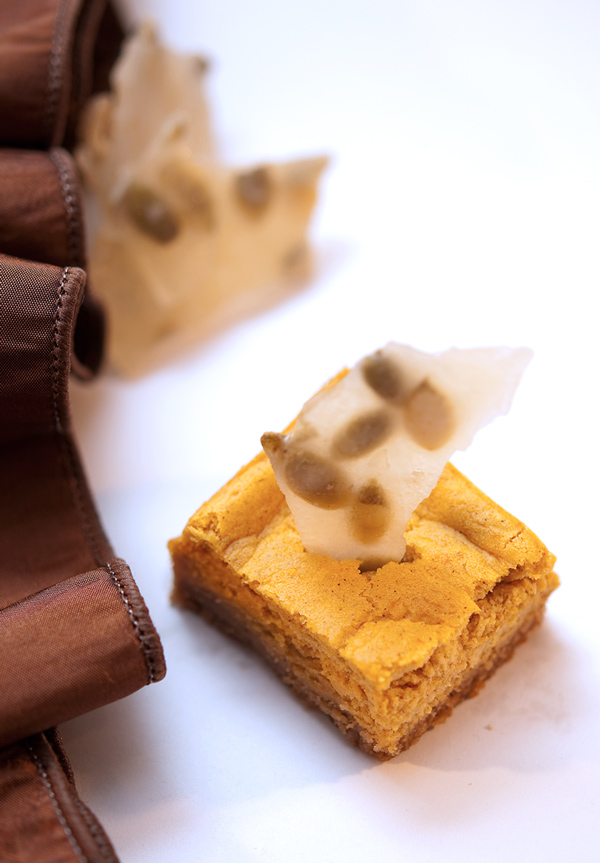 It's that time of year once again; the pumpkins are popping up in every grocer and on neighbors' porches. Giant ones, orange ones, white ones, warty ones, multi-colored ones and, of course, the very versatile pie pumpkin ones. The pie pumpkin can be cleaned, roasted and pureed, then made into delicious pumpkin desserts. Alas, I don't have the time to roast my own beautiful pumpkin puree, so I use the next best thing -- canned.
Canned pumpkin puree is an easy way to create pumpkin desserts in next-to no time. Pumpkin cheesecake happens to be one of my favorites. It is rich, creamy and delicious with the addition of Madagascar 2-fold vanilla extract.
Beanilla Madagascar 2-fold extract is made from premium vanilla beans that is a favorite among chefs around the world. This traditional type of vanilla adds an incredibly full flavor to any style of dessert. Beanilla's 2-fold Madagascar vanilla extract is made with twice the amount of vanilla beans, adding an intense vanilla flavor to pumpkin cheesecake squares.
Share your thoughts, leave a comment!
← Previous Post
Next Post →