Posted in Baking Recipes, Cookies, Seasonal Baking Recipes by Sarah
Buckeye Cookies Recipe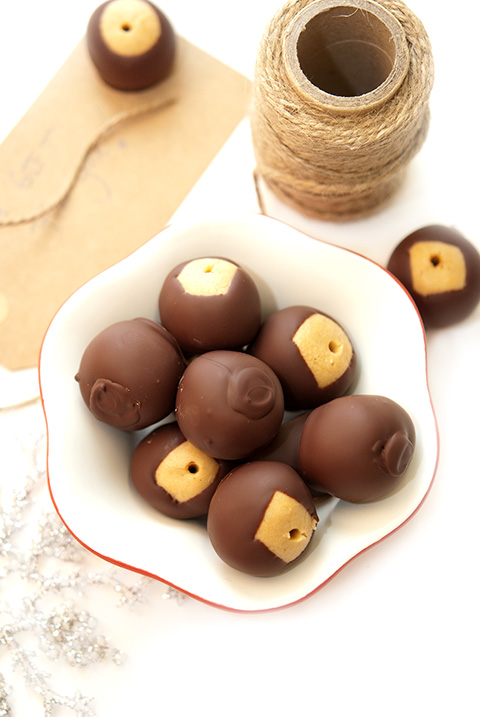 If you live in Michigan, Ohio or any of the surrounding Midwest states, you are most likely familiar with Buckeyes. For those of you who live in the Southern states, or on either of the coasts, and have never had a Buckeye, you must make these delicious candies a part of your holiday traditions!
The buckeye is the state tree of Ohio. It produces small nuts that have a dark outer shell, but the lighter colored interior of the nut is visible from the top. The candy resembling this beloved nut is made with a creamy peanut butter center and dipped in milk chocolate. The creamy center is visible from the top of the candy. The candy is reminiscent of a peanut butter cup, and is primarily made on and around the holiday season or during the Ohio State football season. Our buckeyes are traditional, but you can mix it up and dip the entire creamy center into the chocolate. Drizzle a bit of melted chocolate on top for a finished look.
Buckeyes make a perfect holiday gift for neighbors, teachers and friends. To make your handmade gift even more special, purchase small candy boxes from your local craft store and finish with a big bow. Add a personalized card or tag and watch the recipients' eyes light up when you gift them with this delicious handmade treat!
The recipe may be traditional, but even traditional recipes are not complete without the addition of vanilla! Our Tahitian vanilla bean paste (3-fold) adds a floral and sweet flavor to the salt base of the chocolate. The vanilla bean paste is visible and the flavor is pronounced, despite the bold flavor of the peanut butter.  Our Tahitian vanilla bean paste is simply the best, with a quality and aroma that is apparent the moment you open the jar!
Share your thoughts, leave a comment!
← Previous Post
Next Post →