Posted in Baking Recipes, Chocolate, Puddings, Custards & Creams by Sarah
White Chocolate Vanilla Bread Pudding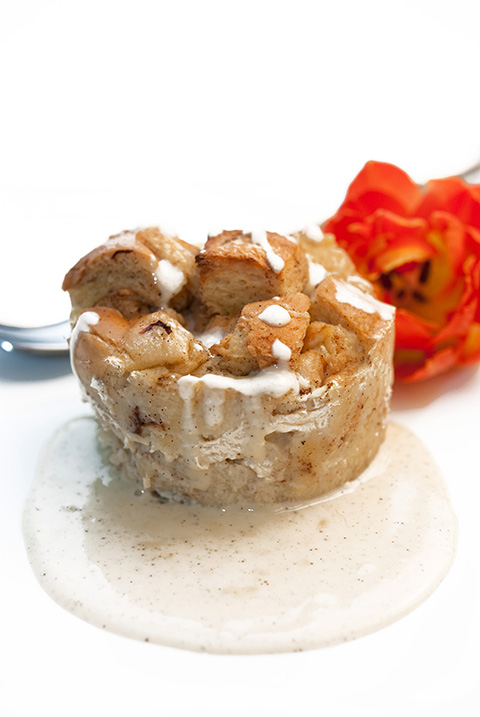 Bread pudding and soufflés are two of the pastries that I have never made...can you believe that?! To be completely honest, I hadn't even tried either one until a recent trip to New Orleans. I have a difficult time ordering desserts such as bread pudding when I am dining out because; a) I bake for a living, and b) If I am going to order dessert, it has to be unique and absolutely decadent. I have never really thought of bread soaked in a custard as either decadent or unique. Boy was I wrong!
The bread pudding I had was creamy, sweet and absolutely decadent. I knew I had to put that on my checklist of desserts to recreate when I got back home. The recipe I chose is an adaptation of the recipe that is used at Bon Ton in New Orleans. I substituted the whiskey sauce for a creamy and delicious vanilla crème anglaise and omitted the raisins (I just don't like raisins in pastries!). I also added chopped white chocolate (I like Callebaut chocolate), and I have to admit that it was absolutely divine!
Bread pudding is composed of very few ingredients, so the ingredients going in to the dessert must be high quality and utterly delicious. The Mexican vanilla beans we carry are a perfect choice for this dessert! Our Mexican vanilla beans have a very smooth, creamy flavor with a hint of spice, which is a great compliment to the allspice and cinnamon in this recipe. They are very delightful and commonly used for making extract and vanilla-based desserts such as vanilla ice cream and crème anglaise. The beans are cured using traditional sun-wilting and oven-wilting procedures uncommon to many other bean varieties. Mexican vanilla beans are remarkable in flavor and are very popular for baking and creating homemade vanilla extract.
Share your thoughts, leave a comment!
← Previous Post
Next Post →