White Chocolate Vanilla Bread Pudding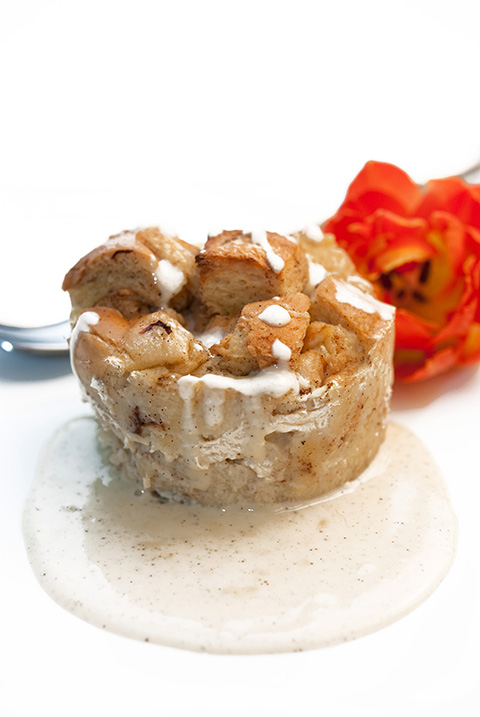 Bread pudding and soufflés are two of the pastries that I have never made...can you believe that?! To be completely honest, I hadn't even tried either one until a recent trip to New Orleans. I have a difficult time ordering desserts such as bread pudding when I am dining out because; a) I bake for a living, and b) If I am going to order dessert, it has to be unique and absolutely decadent. I have never really thought of bread soaked in a custard as either decadent or unique. Boy was I wrong!
The bread pudding I had was creamy, sweet and absolutely decadent. I knew I had to put that on my checklist of desserts to recreate when I got back home. The vanilla bread pudding recipe I chose is an adaptation of the recipe that is used at Bon Ton in New Orleans. I substituted the whiskey sauce for a creamy and delicious vanilla crème anglaise and omitted the raisins (I just don't like raisins in pastries!). I also added chopped white chocolate (I like Callebaut chocolate), and I have to admit that it was absolutely divine!
Bread pudding is composed of very few ingredients, so the ingredients going in to the dessert must be high quality and utterly delicious. The Mexican vanilla beans we carry are a perfect choice for this dessert! Our Mexican vanilla beans have a very smooth, creamy flavor with a hint of spice, which is a great compliment to the allspice and cinnamon in this recipe. They are very delightful and commonly used for making extract and vanilla-based desserts such as vanilla ice cream and crème anglaise. The beans are cured using traditional sun-wilting and oven-wilting procedures uncommon to many other bean varieties. Mexican vanilla beans are remarkable in flavor and are very popular for baking and creating homemade vanilla extract.
White Chocolate Vanilla Bread Pudding
Ingredients:
½ loaf of challah bread (cut into 1 inch squares)
2 cups whole milk
2 whole eggs
1 cup sugar
1 vanilla bean (scraped)
1/8 tsp. allspice
¼ tsp. cinnamon
4 ounces chopped white chocolate
2 tbsp. melted butter
Directions:
Preheat oven to 350 degrees. Soak bread in whole milk. Set aside. In a separate bowl whisk together eggs, sugar, vanilla bean, allspice and cinnamon. Add bread and white chocolate to egg mixture and toss very gently to combine.
Brush four soufflé ramekins with the melted butter. Divide bread mixture between the prepare ramekins. Bake for 40 minutes until set. Let cool and remove from ramekins. Garnish plate with vanilla crème anglaise and fresh berries or leave in ramekins and spoon crème anglaise over top of the bread pudding.
Crème Anglaise
Ingredients:
1 cup whole milk
1 vanilla bean, split lengthwise
1/4 cup sugar
2 large egg yolks, at room temperature
Directions:
Heat milk and vanilla in a medium saucepan until small bubbles form on the edges. In a mixing bowl whisk together egg yolks and sugar. Slowly add ½ the milk mixture to the egg mixture whisking immediately. Add the mixture back into the remaining hot milk, return to low heat. Whisking continuously, bring to a simmer and continue whisking until mixture thickens slightly. To test doneness of the sauce, dip a spoon into the sauce and run your finger across the back of the spoon. If the line remains on the spoon the mixture is thickened sufficiently.
Share your thoughts, leave a comment