Chocolate Hazelnut Pudding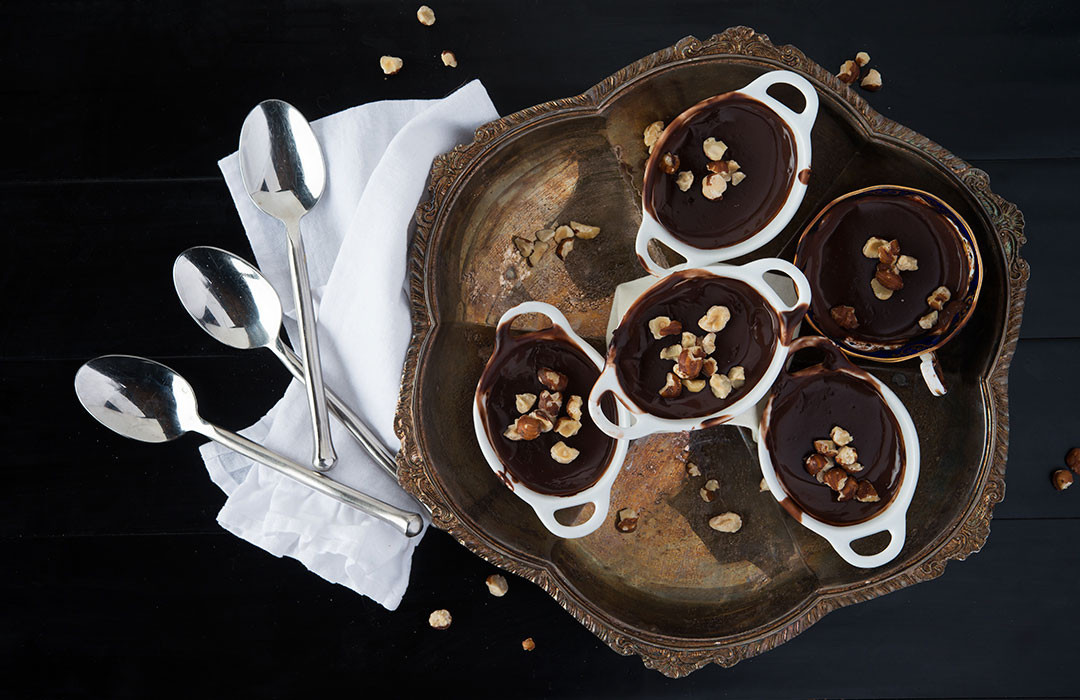 We recently explored the British take on pudding (sticky toffee pudding), so it seemed only fair to spend some time with its American counterpart. While in the UK, the word "pudding" can be used to describe any dessert, here in America, it specifically refers to a smooth, creamy concoction which far too often comes from a boxed mix or a plastic cup. We're here to change that with our Chocolate Hazelnut Pudding recipe, which will show you how delicious this classic pudding dessert recipe can be when made with a little love.
American pudding evolved from 19th-century recipes for chocolate custard. These were actually marketed as health foods, since they were calorically rich and easy to digest for children and people who had trouble eating solid foods. It wasn't until the introduction of boxed pudding mix in 1934 that pudding, as we know it today, became a staple across the country. Today, you'll encounter a wide variety of pudding flavors in the baking aisle of any grocery store, but chocolate is by far the most popular. It also happens to be our favorite, especially when made from scratch.
If you're picturing the bland, vaguely-chocolatey pudding cups you used to get in your school lunches, think again. Our homemade pudding recipe combines rich chocolate with the sweet, buttery flavor of hazelnut. These flavors are balanced by the subtle sophistication of our pure Madagascar vanilla extract. Sprinkle on some chopped hazelnuts for a bit of crunch, and you've got a pudding that kids of all ages will be trying to trade their other treats for.
Chocolate Hazelnut Pudding Recipe
Yields 4 servings
Ingredients:
1 large

egg

2

egg yolks

6 ounces

bittersweet chocolate, chopped

2 tablespoons

unsalted butter, softened

1 teaspoon

Madagascar Vanilla Extract

2 ½ cups

whole milk

½ cup

heavy cream

⅓ cup

Dark Brown Sugar, packed

2 tablespoons

Dark Cocoa Powder

2 tablespoons

cornstarch

¼ teaspoon

salt

1 ½ teaspoons

Hazelnut Flavoring

Chopped Hazelnuts,

for garnish

Directions:

Crack egg into a small heatproof bowl. Add separated yolks and whisk to combine.

Place butter, Madagascar vanilla extract, and chopped chocolate into the bowl of a food processor or blender, but don't process yet.

Add cream, milk, cocoa, cornstarch, brown sugar, and salt to a medium pot; whisk until smooth. Bring mixture to a rolling boil, whisking constantly. Let bubble for 1-2 minutes to allow cornstarch to activate. Once mixture starts to thicken, immediately remove from heat.

Add a small amount of the hot mixture to the eggs, whisking constantly to prevent curdling. Pour egg mixture into pot with the remaining cornstarch mixture. Place pot over low heat, whisking constantly, until the mixture reaches a low simmer. Immediately pour mixture into the blender or food processor, and process until the pudding is quite smooth. Add the hazelnut flavoring and pulse a few times to combine.

Pour the pudding into individual bowls (about a cup per serving) and cover with plastic wrap; refrigerate for at least 4 hours. Garnish with chopped hazelnuts before serving. Pudding can be made up to 3 days ahead of time.
Share your thoughts, leave a comment