Posted in Baking Recipes, Breads & Muffins by Sarah
Vanilla Bean Cloverleaf Rolls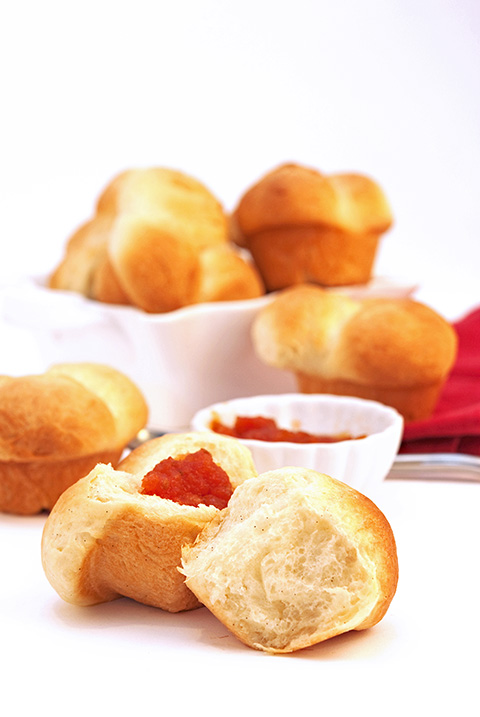 There is no aroma quite as comforting or as intoxicating as freshly baked bread. The art of bread-making dates back to the ancient Egyptians; grains were cultivated, and a simple mortar and pestle were used to grind the grain into a very course flour. The first bread was unleavened, similar to a tortilla or a naan bread. The addition of yeast to these breads began when wild yeast was attracted to the ground grains and "contaminated" them, and then the warm climate and the addition of water activated the yeast and caused the dough to rise.
Although the ancient Egyptians had no working knowledge of how the yeast microorganisms caused the dough to rise, each time the dough would rise they would remove a small piece to add to the next batch of dough. In modern times this would be considered the mother. Many bakers have one or two mothers that they start their artisanal breads from, assuring consistency in flavor from one batch to another. I have worked with many artisanal bread bakers that keep a storage container that holds the original mother from when they began their career as bakers. They feed and care for it as if it was more precious than gold.
I didn't have a mother to pull from to create these absolutely delicious vanilla clover leaf rolls, but I did have beautiful Madagascar vanilla beans from Beanilla. Madagascar vanilla beans are grown on the Island of Reunion (known as the Island of Bourbon), east of Madagascar. These vanilla beans are very distinct, with a flavor and aroma profile unlike any other vanilla bean. Madagascar vanilla beans are processed using the "Bourbon" curing method. This technique typically produces vanilla beans with higher moisture content. Our gourmet vanilla beans have a moisture content of roughly 33%. You'll notice that there are no breaks or splits within the vanilla beans; another indication of extremely high quality.
The Madagascar vanilla bean adds a sweet and buttery vanilla flavor to this soft, creamy and slightly sweet dinner roll. One bite and you'll wonder why you didn't make these sooner!
Share your thoughts, leave a comment!
← Previous Post
Next Post →