Banana Bread French Toast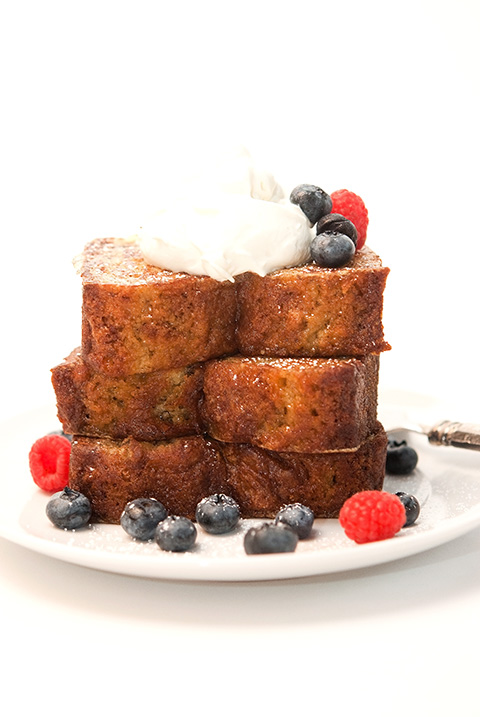 There is nothing quite as homey or satisfying in the morning as a slice of freshly made banana bread. Warm from the oven slathered in butter, it is the perfect accompaniment to a hot cup of coffee! Let's be honest though, who has the time to make from scratch a loaf of bread?! I think I found the perfect solution to this conundrum! Banana bread French toast! The bread can be made days, or even weeks, ahead of time when it fits into our hectic schedules, and then frozen. Simply remove the frozen bread the night before and let it thaw out on the counter. Add some fresh berries and a simple mascarpone whipped cream, and your loved ones will think you slaved for hours just for them.
Banana bread French toast is definitely not a new creation. I first had it in a quaint café in Southern California, piled high, loaded with whipped cream and dripping with fresh strawberries. I barely made a dent in the pile before throwing in the napkin. After moving back to Grand Rapids, I was pleased and excited to have a similar, but scaled down, version at a popular local breakfast place. It was just as tasty!! Not wanting to wait in line for this delicious treat, I made my own version with aromatic vanilla beans, of course!
Banana bread, although delicious, tends to have one note of flavor, bananas. Adding Mexican vanilla bean caviar to the bread brings out the tropical characteristics of the banana and enhances the bread with a bit of Mexican spice. Who couldn't use a little more spice in their lives?!  Moist and delicious, this recipe is sure to become a family favorite!
Banana Bread French Toast
Yields 6-8 slices (depending on thickness)
Ingredients:
1/2 cup

butter, softened

1 cup

sugar

3

eggs

, room temperature

1

Mexican vanilla bean

(scraped and split)

1 cup

mashed bananas

1/2 cup

vanilla bean Greek yogurt (Fage is the brand I prefer)

1 2/3 cup

flour

1 teaspoon

baking soda

1/2 teaspoon

salt
Directions:
In a mixer with a paddle attachment, cream together butter and sugar until light and fluffy. Add vanilla bean scrapings and eggs one at a time. Scraping down bowl in between each addition.  Add bananas and yogurt beat until combined. In a separate bowl whisk together flour, baking soda and salt. Add to mixture and beat until just combined.
Spoon into a loaf pan and bake at 325 degrees F for 60-80 minutes until golden brown. Insert toothpick into bread to test for doneness. If toothpick comes out clean it is done.
Let cool to room temperature and wrap in plastic wrap. Freeze up to a month.
---
Mascarpone Whipped Cream
Ingredients:
1 cup

heavy cream

1-6 ounce

container of mascarpone (softened)

1/2 tsp.

almond extract

1/2 cup

sugar

1 tsp.

orange zest
In a mixing bowl fitted with a whisk attachment beat heavy cream and sugar until soft peaks form. Add mascarpone, almond extract, orange zest  and fold into the whip cream. Set aside, can be made the night before and chilled.
Assembly
Ingredients:
6

eggs

1/4 cup

milk

1/2 tsp.

cinnamon
Directions:
Whisk together the milk, eggs and cinnamon in a large shallow bowl. Dip each side of the banana bread in the egg mixture. Place in a non-stick frying pan sprayed with cooking spray. Cook about 3-4 minutes on each side until golden brown. Repeat with remaining bread.
Place two slices of French toast on a plate. Top with a spoonful of mascarpone cream and garnish with fresh seasonal berries.  Fall in love!
Share your thoughts, leave a comment