Posted in Baking Recipes, Breakfast & Brunch by Sarah
Banana Bread French Toast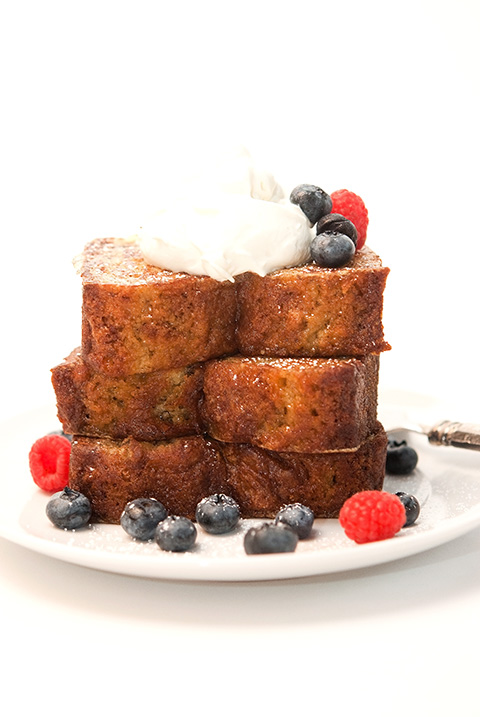 There is nothing quite as homey or satisfying in the morning as a slice of freshly made banana bread. Warm from the oven slathered in butter, it is the perfect accompaniment to a hot cup of coffee! Let's be honest though, who has the time to make from scratch a loaf of bread?! I think I found the perfect solution to this conundrum! Banana bread French toast! The bread can be made days, or even weeks, ahead of time when it fits into our hectic schedules, and then frozen. Simply remove the frozen bread the night before and let it thaw out on the counter. Add some fresh berries and a simple mascarpone whipped cream, and your loved ones will think you slaved for hours just for them.
Banana bread French toast is definitely not a new creation. I first had it in a quaint café in Southern California, piled high, loaded with whipped cream and dripping with fresh strawberries. I barely made a dent in the pile before throwing in the napkin. After moving back to Grand Rapids, I was pleased and excited to have a similar, but scaled down, version at a popular local breakfast place. It was just as tasty!! Not wanting to wait in line for this delicious treat, I made my own version with aromatic vanilla beans, of course!
Banana bread, although delicious, tends to have one note of flavor, bananas. Adding Mexican vanilla bean caviar to the bread brings out the tropical characteristics of the banana and enhances the bread with a bit of Mexican spice. Who couldn't use a little more spice in their lives?!  Moist and delicious, this recipe is sure to become a family favorite!
Share your thoughts, leave a comment!
← Previous Post
Next Post →