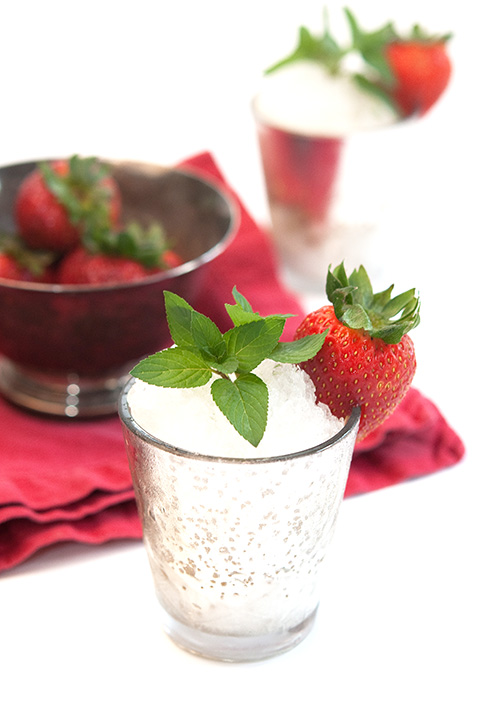 It's a sweltering August evening and you are looking for the perfect drink to serve your guests -- something that is not too sweet but it still light and fruity with a punch. This strawberry mint julep is cold, refreshing and begs to be sipped slowly -- perfect for those hot summer nights surrounded by friends and great food.
The mint julep has a long and rich history. The drink gained popularity in celebration of the Kentucky Derby in 1938, and sold for $ 0.75 in a souvenir cup that patrons could take home with them. On average, the Derby sells more than 80,000 of this signature drink during the event. The question still remains, "Why do you always see mint juleps in a classic and recognizable silver cup?" The south is rich in tradition, and the mint julep cup was traditionally given as gifts at weddings, christenings and races. The cup symbolizes achievement, high regard and prestige.
Classic and timeless, the mint julep is a simple and classy drink brought to a new level with the addition of ripe red strawberries and a touch of our strawberry extract. Ripe red strawberries kissed by the summer sun is the perfect way to describe our strawberry extract. Whether you need a boost of ripe strawberry flavor for your favorite drink, to enhance a simple syrup or create a decadent vanilla and strawberry whipped cream, our natural strawberry extract is the perfect choice! Check out our Kentucky Derby drink recipe for our twist on this classic.
Strawberry Mint Julep
This sweet spin on the Derby-day classic will keep you cool all summer long!
Ingredients
1

tsp

water

2

heaping tsp

superfine sugar

15

fresh mint leaves

3

oz

bourbon

1 1/2

cup

crushed ice

2

strawberries

plus more for garnish
Instructions
In the bottom of a silver cup (or any glass), add water, sugar, strawberries and mint leaves. Muddle together until it forms a rough paste but mint and strawberries are still visible.

Place ice on top of mixture and stir gently. The ice will melt, diluting your strawberry mint julep drink to a balanced, less potent libation. Garnish with mint leaves and strawberry
Share your thoughts, leave a comment