Persimmon Ice Cream Recipe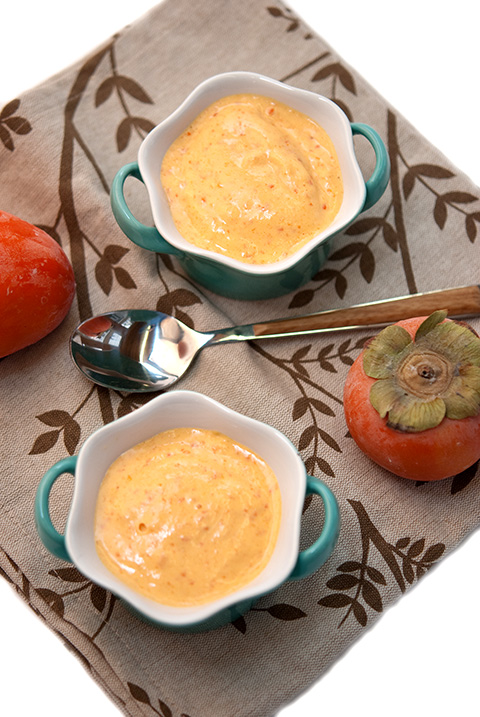 Persimmons are in season! This sweet and creamy fruit is very versatile, but can be a little intimidating a first glance. You may ask, "What is a persimmon, and how can I eat this beautiful, bright orange fruit?!"
The persimmon has two species that are readily available in December and January.
The Hachiya persimmon is shaped similarly to a roma tomato. The flavor is incredibly tart, unless brought to an overly ripe state. The pulp inside is soft, silky and creamy, and often resembles the texture of a very ripe banana. The ripe Hachiya's flavor is similar to a cross between a banana and an apricot. The Hachiya is often used in baking, and is the perfect addition to just about any bread, pudding or filling.
The Fuyu persimmon is squat and has a flat bottom. The stem is larger, and the fruit has a more exotic look. The Fuyu can be picked un-ripe and will ripen on the counter to a bright orange color. The Fuyu is most often eaten whole as a fruit.
Persimmons have a creamy interior that is perfect for a simple and unique ice cream. You'll love the sweet, honeyed flavor of this persimmon dessert! Simply place frozen slices of the fruit into a blender and add a few ingredients such as sugar and buttermilk. Lemon juice brightens the flavor of the fruit and brings out the beautiful aroma of the Madagascar vanilla bean. Madagascar Bourbon Vanilla Beans come from the Island of Reunion (known as the Island of Bourbon), east of Madagascar. These vanilla beans are very distinct, with a flavor and aroma profile unlike any other vanilla bean. See what other's have to say about our Madagascar beans:
The Best Source
"...Madagascar vanilla beans stand up to cooking and have a lovely, warm flavor. The Best Source: Buying vanilla beans in bulk is a great value. Beanilla Trading sells beans, extracts, and powders from around the world, in a variety of quantities. Madagascar beans, $13 for 10, beanilla.com"
—Taste-Test Winners, Martha Stewart Living, April 2010
Beans In Bulk
"...To save money, order vanilla beans online from sites such as beanilla.com. You'll end up spending a lot less ($13 plus shipping for 10 Madagascar beans) than you would buying them from a supermarket. And of course, the more beans you buy, the cheaper they are."
—DIY Vanilla Extract, America's Test Kitchen D.I.Y Cookbook, 2012
Persimmon Ice Cream Recipe
Yields 3-4 servings
Ingredients:
2 ripe

persimmons (Hachiya or Fuyu)

¼ cup

vanilla sugar

1

Madagascar vanilla bean (split and scraped)

½ cup

buttermilk

1 teaspoon

lemon juice
Directions:
Freeze the persimmons until hard (overnight).
Once frozen, remove the stems from the fruit and cut in half. Remove the seeds. Cut into quarters. Place the quarters into a blender. Add the sugar and vanilla, puree into small pieces. While the blender is running, slowly add the buttermilk. Process the mixture until smooth. Add the lemon juice, process until combined. Spoon into small dishes and serve with store bought ginger cookies.
Share your thoughts, leave a comment