03 Jan
Posted in Baking Recipes, Beverages, Drinks & Cocktails by Sarah
Homemade Limoncello Recipe (DIY)
Winter is beautiful in Michigan. The snow falls gently to the ground, leaving a pristine layer of white. The kids bundle up, grab their sleds and their laughter fills the air. Hot chocolate and marshmallows are the preferred choice of beverage. The first month of snow is beautiful! Then January approaches and slowly February, the snow is no longer pristine and the cold, crisp air has lost its allure. The sun hasn't shown its face in days, and we are beginning to long for green grass and warm weather. This is the perfect time of year for Limoncello. Bright, citrusy and cheery enough to ward off the winter blues.
Start your own batch of homemade Limoncello today, and it will be ready just in time for the longest part of our Midwestern winters. Limoncello is very simple to make. Begin with fresh lemon peels and good-quality vodka. Let the mixture infuse in a cool, dark area of your home for 2 weeks. Once the lemons have imparted their bright, citrusy flavor to the vodka, strain the vodka and discard the lemon peels (you can save the lemon peels and candy them as a garnish for the Limoncello).
Bring the sugar, water and vanilla bean scrapings to a low simmer in a medium saucepan. Whisk the mixture until the sugar has dissolved and the vanilla bean has dispersed throughout the syrup. Let cool to room temperature. Whisk the sugar syrup into the infused vodka. Bottle in your favorite lidded containers and let sit in a cool dark place for 20 additional days. Shake the vodka every once in a while to disperse the settled sugar throughout the container. After twenty days place the Limoncello in the freezer to chill.
Remove the Limoncello from the freezer, and pour a small amount into a cordial glass. Sip and let the bright lemon flavor transport you to a warm, sunny place -- even on the coldest of Midwestern days!
Limoncello traditionally does not contain vanilla beans. However, our Tahitian vanilla beans bring a sweet, fruity flavor to this traditional recipe. Tahitian vanilla beans grow in two areas of the world. The major differences between Tahiti vanilla and Papua New Guinea (PNG) vanilla is the size. These beans are enormous! These vanilla beans are 2-3 times as plump as other varieties and therefore contain significantly more caviar inside of the bean. Vanilla from Tahiti is Beanilla's favorite!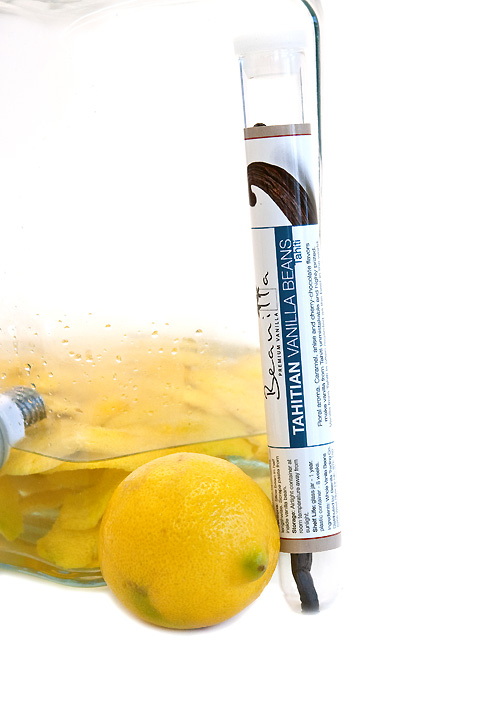 Why are these vanilla beans more expensive than other varieties? First and foremost, their size and caviar content mean each Tahitian vanilla bean is at least twice the size of other vanilla beans.
Second, Tahiti is a fairly developed country, especially compared to other regions that grow vanilla. This equates to significantly higher production costs. The farmers we work with in Tahiti are very proud of their product and simply cannot sell it for what other countries do. Selling vanilla for any less would simply not be sustainable. We are proud to support these farmers!