Strawberry Limoncello Snow Cone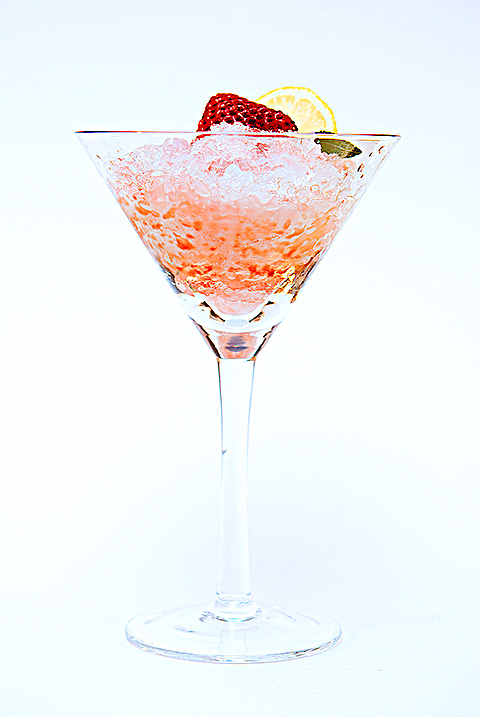 It's cold here in Michigan, but that won't stop me from bringing a bit of sunshine inside! Last year at this time, we were on our way from sunny southern California to live in snowy Western Michigan. Although I love living closer to family and friends, there are parts of California that I do miss, especially when the snow falls here and the temperatures hover near freezing.
Living in Southern California bring days full of sun and warmth, palm trees, the smell of the ocean and shaved ice! Shaved ice carts are abundant near the boardwalks of the ocean. You can choose from a multitude of syrups and holding the snow cone in your hand brings you back to the days of the Snoopy Sno-Cone Machine.
My strawberry limoncello snow cone is a grown up version of a childhood classic. Strawberry extract from Beanilla bring a ripe fresh picked strawberry flavor to the tart and sweet flavor of the limoncello.
Strawberry Limoncello Snow Cone
Yields 1
Ingredients:
1 ½ c. shaved ice (I used a commercial snow cone machine but you can use a heavy duty blender)
1 1/2 oz. Limoncello (or 1 tsp. Lemon Extract for non-alcohol version)
1 oz. simple syrup
1 tsp. strawberry extract
Directions:
Stir together the limoncello and simple syrup. Scoop the shaved ice into a martini glass and pour the limoncello mixture over the ice. Drizzle over the strawberry extract, garnish with a lemon slice and fresh strawberry and enjoy this delightful strawberry limoncello snow cone!
Share your thoughts, leave a comment