Perrin No Rules Glazed Puff Pastry Donut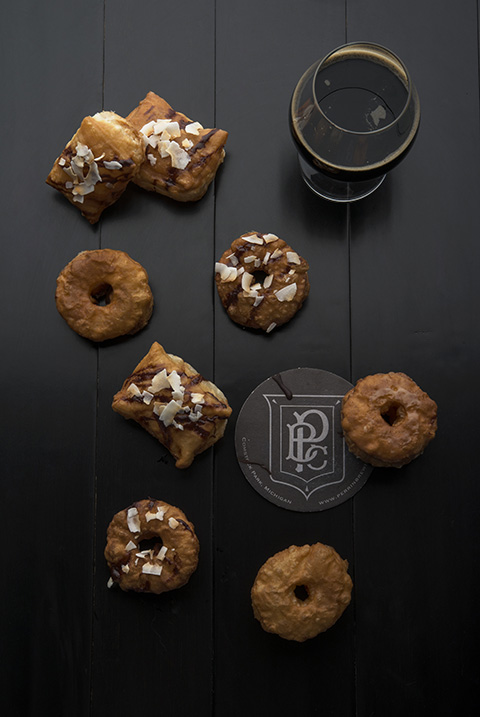 The donut—everyone's favorite guilty pleasure! Cake, yeast, puff pastry, glazed, ganached or even sprinkled, we can't seem to get enough of this confection. Cake and yeast donuts can be complicated and messy to create at home, but two sheets of puff pastry are the solution to this conundrum. Puff pastry is simple to use, easy and accessible to just about every home cook. Simply place your package of pastry into the fridge overnight to thaw. Once thawed, remove from the fridge and cut into your favorite donut shape. I chose a rectangular cutter, but your shape is only limited by your imagination.
Puff pastry donuts are light, soft on the inside and flaky on the outside; the perfect vehicle for a delicious glaze made with Perrin Brewing Company's newest beer: No Rules Vietnamese Porter. No Rules is a local craft beer created using Beanilla products! The dark, robust beer has notes of cinnamon and coconut. It's the perfect beer to sip or to utilize in bake goods and pastries. If you happen to be in the West Michigan area and want to sit and enjoy a beer and great brewery cuisine, check out Perrin Brewing Company!
These light, flaky donuts would not be complete without the addition of our toasted coconut chips (coconut chips lightly roasted until golden brown). These little beauties are incredibly addictive on homemade granola, baked oatmeal, in baked goods or as a garnish for just about anything! Be warned, you may have to order more just to snack on. They are addictively delicious straight out of the package!!!
Puff Pastry Donut Recipe With Perrin No Rules Vietnamese Porter Glaze
Ingredients:
2 sheets

puff pastry (thawed in fridge)

½-1 gallon

Canola oil
Directions:
Unfold one sheet of puff pastry onto a flat cutting surface, such a counter or cutting board. Place the remaining sheet in the fridge.
In a large dutch oven (I used my well loved Le Crueset cast iron dutch oven) pour the oil and attach a thermometer to the inside of the pot. Heat to 375 degrees. Cut out the puff pastry with a donut cutter or rectangle cutter and lightly place the dough into the oil. 3-4 donuts will fit into the oil at one time. Do not overcrowd. Once the donuts begin to brown on the bottom side (1-2 minutes) flip them over using tongs or a slotted spoon. Brown the donut on the other side. Remove from the oil and place on a cooling rack with a sheet tray underneath. Continue with the remaining puff pastry dough. Remove the second sheet from the fridge, unfold and continue the process. Cool donuts to room temperature.
No Rules Glaze
Yields 2 cups
Ingredients:
Directions:
In a small bowl whisk together the powdered sugar and No rules until smooth. Set aside.
Chocolate Ganache Glaze
Yields approximately 1 cup
Ingredients:
9 ounces

bittersweet chocolate

1 cup

heavy cream

1 teaspoon

rum extract
Directions:
Place the chocolate on a cutting board. Using a serrated knife chop the chocolate in small pieces. Scrape into a glass or metal bowl and set aside. In a saucepan, heat the heavy cream to a simmer. Pour over the chocolate and add the rum extract. Let sit for 3-5 minutes and whisk to combine. Set aside.
Invert the donuts and dip in the glaze. Turn right side up and place on the cooling rack. Using a teaspoon, slowly drizzle the chocolate ganache onto the glazed donut.
Garnish with toasted coconut chips.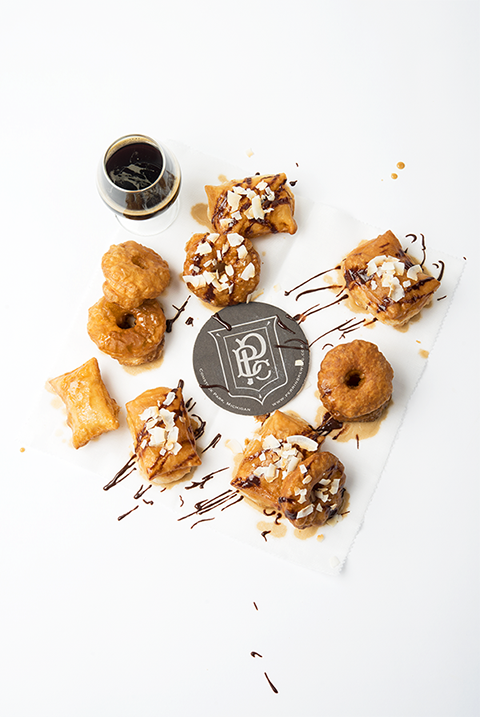 Share your thoughts, leave a comment