Posted in Baking Recipes, Chocolate, Pastries & Tarts by Sarah
Dark Chocolate Ganache Tart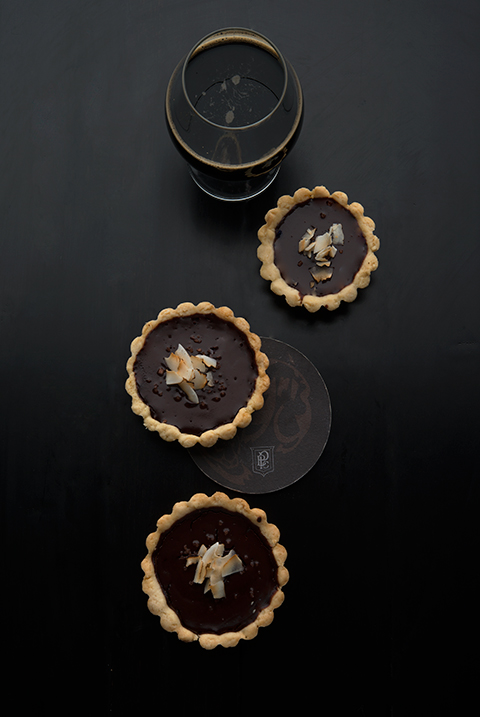 What does dark chocolate ganache, sweet pate sucre crust and Himalayan pink salt need to complete this sweet and savory tart? A robust cinnamon and coconut beer from Perrin Brewing Company! No Rules is a porter produced by Perrin utilizing Beanilla extracts and flavorings. Beanilla coconut and cinnamon extracts mingle with a robust porter to create a truly amazing product. Not only is it a pleasure to drink, it is a delight to bake with. If you find yourself venturing into the Grand Rapids area and feel the need to have a truly amazing beer and great brewery cuisine, check out their restaurant and brewery.
Our extracts are high quality, providing the pure flavor of the fruit, nut or flavoring you want to replicate in your baking creations. The coconut extract provides the distinct and tropical flavor of coconut that has been a long time favorite among chefs and bakers alike. This exquisite flavor has a subtle sweetness with undertones of butterscotch and caramel. Add the exotic flavor of the tropics to your frostings, pies, cakes, syrups, and drinks and just about anywhere you long for that colorful coconut taste. Cinnamon extract brings a spicy but subtle bite to chocolate, white chocolate blondies or even your favorite coffee drink. Each of our extracts comes ready to use, perfect for the home baker or for use by commercial restaurants, breweries and bakeries.
Share your thoughts, leave a comment!
← Previous Post
Next Post →