Vanilla French Vinaigrette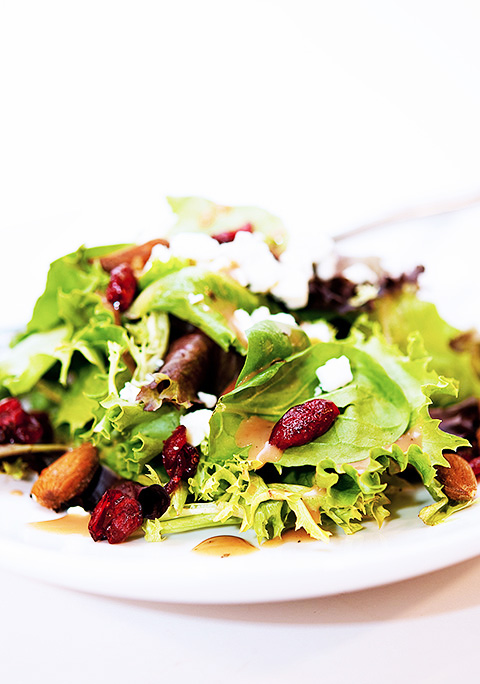 What is your new year's resolution this year? Maybe you want to find love, a new job, make more money, build your business or perhaps you are one of the many who resolve to find and maintain a healthy lifestyle. Maybe you would like to lose weight or perhaps you just want more energy. While I can't find you love or make you more money, I can certainly help you on the path to a healthy lifestyle with a simple, but delicious, vanilla bean vinaigrette dressing.
When we think of healthy eating, we ultimately think of salads. Salads are a simple and versatile way to cut calories, and introduce green vegetables and lean proteins into our daily eating habits. One of the easiest, simplest and most delicious dressings is a vinaigrette. A vinaigrette is an emulsion of liquid and oil, whisked together to incorporate in a very flavorful dressing. Basic vinaigrette consists of an acid and a base, but the most delicious and flavorful is the French vinaigrette. French vinaigrette is typically a mixture of olive oil, vinegar (I like champagne vinegar), Dijon mustard and salt/pepper. The addition of Tonga vanilla beans from Beanilla gives this vinaigrette a rich slightly smokey flavor. The addition of the vanilla to the dressing will compliment any grilled protein that is added to the salad, particularly salmon or a grilled chicken breast.
Vanilla French Vinaigrette Recipe
Yields 1 cup
Ingredients:
2 teaspoon Dijon mustard
1 1/2 teaspoon finely chopped fresh garlic
5 tablespoons champagne vinegar
Salt and freshly ground black pepper
1 cup extra virgin olive oil
½ Tonga Vanilla bean (scraped)
Directions:
Whisk together Dijon mustard, fresh garlic, champagne vinegar, vanilla bean scrapings and salt/pepper to taste until combined. Slowly add the olive oil, and whisk until oil combines with the mustard ingredients. Place in lid jar or container and refrigerate until cold. Shake container vigorously before serving with salad.
Salad
4-6 Cups of spring mix
Ingredients:
½ cup Gorgonzola
¼ c. dried cranberries
¼ c. pecans
Directions:
Toss together the spring mix, gorgonzola, cranberries and pecans. Pour desired amount of dressing onto salad and toss to combine.
*For a complete meal add a grilled protein to the salad such as salmon or chicken breast
Share your thoughts, leave a comment