Vanilla Almond Belgium Waffles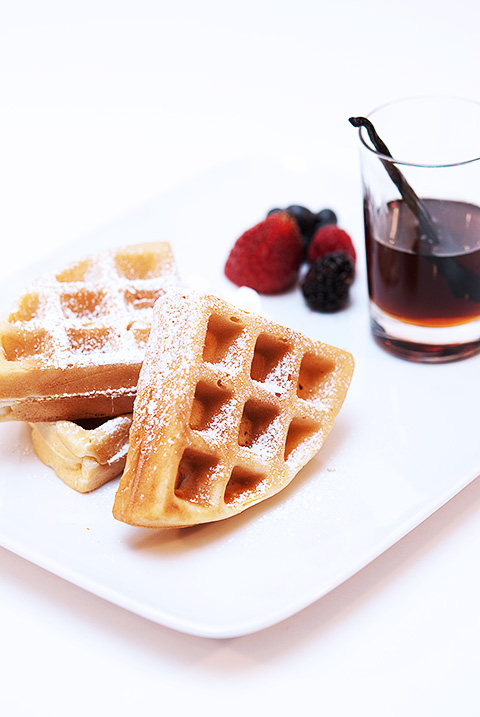 There is nothing that makes me happier than to have a hot breakfast ready for my family in the morning. While this doesn't always happen due to hectic schedules and busy lives, when I do have the time, homemade Belgium waffles are at the top of the list. Easily prepared in 10 minutes, the batter can even be made the night before and stored in the fridge for simple preparation in the morning.
Belgium waffles are delicious on their own, but the addition of Tahitian vanilla paste and almond extract brings them to another level. Almond extract has a nutty and sweet flavor that compliments the Tahitian Vanilla perfectly, and adds a level of flavor and dimension to a basic waffle. Drench the waffle in melted butter and vanilla maple syrup for a final touch. Our Vanilla maple syrup is collected and produced locally in the beautiful state of Michigan. Tahitian Vanilla beans from Beanilla are added to provide the addition of vanilla flavor and visual appeal!
Vanilla Almond Belgium Waffles Recipe
Adapted from Food.com
Yields 4-6 waffles
Ingredients:
2 cups all-purpose flour
2 teaspoons baking powder
2 tablespoons confectioners' sugar
1 tablespoon vegetable oil
2 cups whole milk
3 eggs
1 tsp. Tahitian Vanilla Bean Paste
½ tsp. Almond extract
1 pinch salt
Whipped cream
Directions:
Combine the flour, baking powder, confectioners' sugar, oil, milk and eggs. Whisk to incorporate. Stir in vanilla paste and almond extract.
Pour ¾ c. of the mixture into a hot waffle iron sprayed with pan spray and bake for about 2 minutes.
Repeat with the remaining batter.
Garnish with fresh berries, vanilla maple syrup and whipped cream.
Share your thoughts, leave a comment