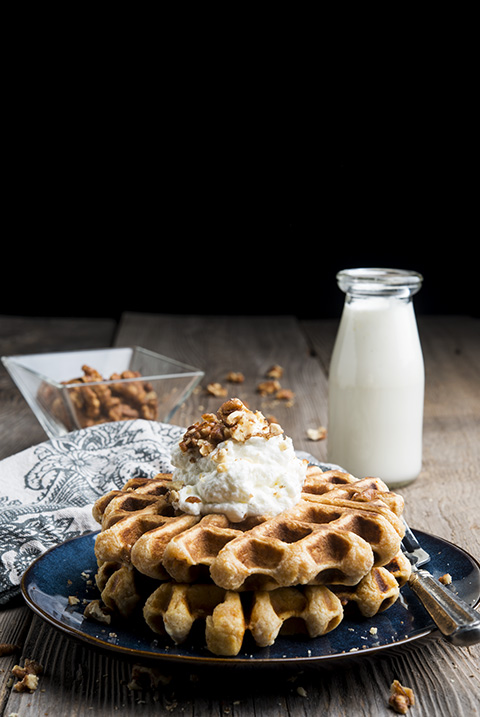 Sweet potato waffles are the perfect way to welcome the cool mornings of spring! The soft sustenance of sweet potatoes perfectly compliments the crunchy texture that waffles are known and loved for. Be prepared for the color of these waffles… a bright, beautiful orange. A reminder that spring has finally arrived, and our lives are about to be filled with more color than seemingly ever before.
Vanilla is essential in baked goods - we can all agree on that. Our vanilla beans are high quality, sourced directly from the farmer, and shipped to you incredibly fresh and ready to use. We carry nine different varieties of vanilla beans, each with their own characteristic smell and flavor:
Madagascar Bourbon Vanilla Beans - creamy, buttery, smooth, traditional
Mexican Vanilla Beans - complex, bold, smoky, dark
Papua New Guinea Vanilla Beans - mellow, smooth, classic, full
Indian Vanilla Beans - rummy, earthy, woody, sweet
Ugandan Vanilla Beans - rich, milky, tones of chocolate, rare
Indonesian Vanilla Beans - floral, sweet, plump, fruity
Tahitian Vanilla Beans - large, tones of ripe fruit, chocolate, caramel
Tahitensis Vanilla Beans - sweet, floral, plump, tones of anise
Tongan Vanilla Beans - woody, tones of figs, raisins, wine
Choosing which bean to use in a particular recipe is an exciting decision! Decide based on coordinating flavor and market availability. We try to keep a constant stock of all varieties of beans, but sometimes due to a bad crop year a certain variety is simply not available.
For this recipe, I recommend using traditional Madagascar Bourbon beans for their creamy, buttery contribution.
Sweet Potato Waffle Recipe
Yields 6-8 waffles
Ingredients:
2 cups

all-purpose flour

4 teaspoons

baking powder

½ teaspoon

ground cinnamon

¼ teaspoon

ground clove

2

eggs, separated

1½ cups

skim milk

1 teaspoon

Madagascar Bourbon vanilla extract

1 cup

pureed cooked sweet potato

3 Tablespoons

coconut oil (melted)

1 Tablespoon

superfine sugar

1

Madagascar Bourbon vanilla bean (split and scraped)
Directions:
In large bowl, mix together the flour, baking powder, cinnamon, and clove. 
In a separate bowl, whisk together the egg yolks, milk, vanilla extract, sweet potato, and oil. Carefully pour the wet ingredients into the dry ingredients and stir together until combined. Set aside.
In a bowl with an electric mixer, beat the egg whites until soft peaks form. Add the sugar and vanilla bean scrapings, and beat until stiff peaks form. Fold this fluff into the batter.
Pour the batter onto a heated, lightly greased waffle iron. Cook according to the waffle iron manufacturer instructions. Serve with whipped cream, candied pecans, and pure vanilla maple syrup.
Share your thoughts, leave a comment