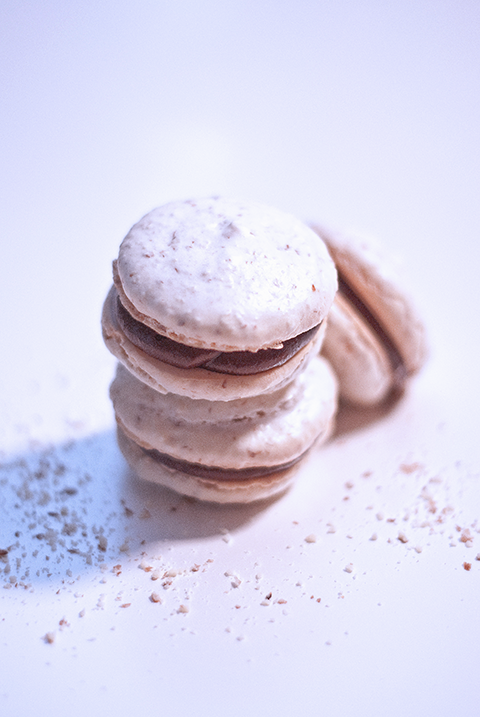 There are two different variations of macaroons; French and American. American macaroons are usually coconut based, sometimes dipped in chocolate and are delicious. French macarons are light and crunchy but with a soft interior. They can be filled with just about any flavor of buttercream you can create.

While living in San Diego, weekends were allocated to family and exploring. Every Sunday we would visit the Hillcrest farmers market. One of my favorite vendors was a French pastry chef who created the most amazing macrons. I was always thrilled to see him there!
I have yet to find French macrons locally here in West Michigan, which means I need to create them myself when the craving hits! French macarons have very few ingredients but are very dependent on weather and ingredient temperature to come out correctly- a dry cool day and or kitchen is important. Following a few simple rules will result in a beautiful macaroon, perfect for holiday parties and gift giving!
Nutella Macarons Recipe
Yields 12 macarons
Ingredients:
3

egg whites (room temperature)

¼ cup

granulated sugar (superfine works best)

(sliced in half and scraped)

1 2/3 cup

confectioner sugar

1 cup

finely ground almonds (or almond meal)
Directions:
Line a baking sheet with a silicone baking mat.
Beat egg whites in the bowl of a stand mixer fitted with a whisk attachment until whites are foamy; beat in white sugar and scraped beans from a bourbon vanilla bean, continue beating until egg whites are glossy, fluffy, and hold soft peaks. Sift confectioners' sugar and ground almonds in a separate bowl and quickly fold the almond mixture into the egg whites, about 30 strokes.
Spoon a small amount of batter into a plastic bag with a small corner cut off and pipe a test disk of batter, about 1 1/2 inches in diameter, onto a prepared baking sheet. If the disk of batter holds a peak instead of flattening immediately, gently fold the batter a few more times and retest.
When the batter is mixed, spoon into a pastry bag fitted with a plain round tip. Pipe the batter onto the baking sheet in rounds, leaving space between the disks. Let the piped cookies stand out at room temperature until they form a hard skin on top, about 1 hour.
Preheat oven to 285 degrees F (140 degrees C).
Bake cookies until set but not browned, about 10 minutes; let cookies cool completely before filling.
Nutella Filling
Ingredients:
1 8oz. jar of Nutella
Directions:
Whip nutella with a whisk until smooth and creamy. Spread about 1 teaspoon of filling onto one macaron (be gentle, the macron is delicate and will crumble) sandwich another macaron on top. Enjoy!!!
Share your thoughts, leave a comment