Posted in Baking Recipes, Puddings, Custards & Creams by Sarah
Coconut Sorbet with Fresh Raspberries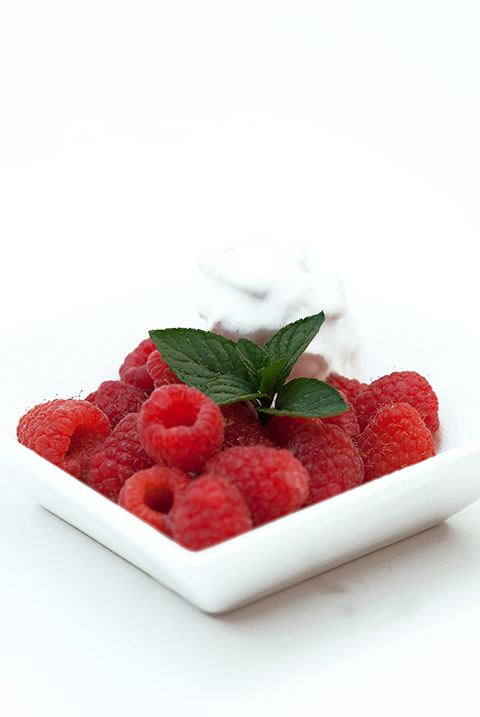 I embrace technology whole heartedly. My iPad, iPhone and digital camera rarely stray far from my satchel. I love being connected to anyone and everyone far and near, but I simply can't embrace reading my favorite publications in digital form. There is something about the feel of flipping through my favorite food magazines and cookbooks, and the feel of the pages and the vibrancy of the photographs gracing the pictorials. I have a file of my favorite international food magazines that I often refer to when creating new recipes. The pages are worn and many are dog-eared waiting for future projects, but I wouldn't trade them for an e-reader or the simplicity of the iPad. I recently pulled one of them out looking for inspiration; a beautiful recipe for marinated raspberries and coconut granita caught my eye. Simple, unique and refreshing! I took the concept and adapted it to fit Beanilla and what I think you, the reader, will enjoy!
Coconut milk is a familiar flavor in many international cuisines, but did you know that you can make a simple sorbet with it? Simply add a can of coconut milk to a freezer safe container, a bit of sugar, our premium vanilla and you can make an all natural dessert ready to serve with fresh seasonal fruit of your choice.
I chose to use Ugandan vanilla for this dessert. Vanilla produced in Uganda is incredible! The aroma is earthy with tones of milk-chocolate. The flavor is very bold as these vanilla beans produce a very high amount of vanillin, making them perfect for rich desserts and chocolates.
Share your thoughts, leave a comment!
← Previous Post
Next Post →