Posted in Baking Recipes, Cakes by Sarah
Blood Orange Vanilla Pound Cake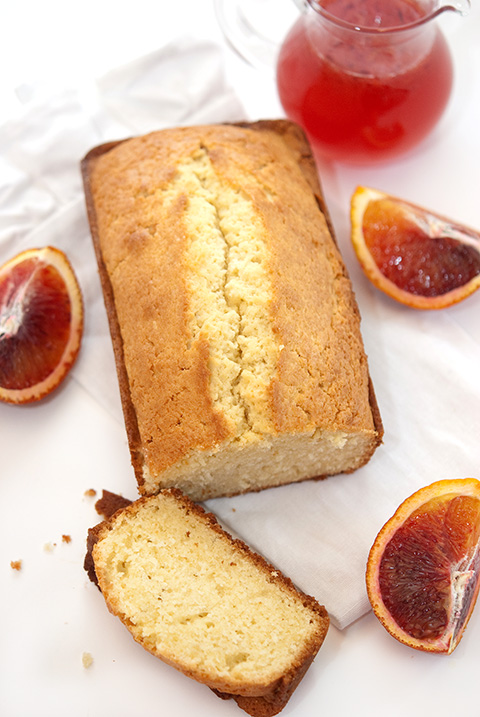 Just about everyone that I know can use a little sunshine in their lives right now. This is the time of year when the winter blues start to set in and the pristine white snow has lost its luster and appeal. We are all yearning for a peak of green grass and the first tiny crocuses to sprout from the frozen ground. While we are waiting anxiously for this to happen, why not bring a little warmth and sunshine into your cold winter day with a beautiful blood orange. Blood oranges look similar to any other citrus on the market; bright orange with a tinge of red on the skin. The red blush on the skin of the blood orange reveals only a glimpse of the beautiful bright red interior. Truly a stunning fruit...
In case you are not familiar with the blood orange, let me give you a brief history lesson. The blood orange is a citrus fruit, the exterior is bright orange with hint of burgundy and red. Once you cut into the fruit the inside reveals a bright cranberry interior. The fruit has a tart flavor with notes of luscious red berries. This orange is perfect for those prone to heartburn but still love citrus juice and the acidity levels of the fruit are much lower than a standard navel orange. The fruit is grown in the warm Mediterranean climates of southern Italy, but has been imported and now grow in areas of Texas and Southern California. The peak growing seasons are January-May.
Blood oranges can be utilized in a variety of recipes. Dressings, desserts and freshly squeezed are the most popular uses. Blood orange vanilla pound cake brings together two delicious flavors in one; blood oranges and Beanilla vanilla extract.
Beanilla Vanilla Extract is our in-house proprietary blend of select Bourbon and Tahitian vanillas used to create an equal balance of flavor and aroma. The floral, fruity, cherry like notes of the Tahitian variety blend wonderfully with the nutty-chocolate character of the Bourbon types. Premium pure vanilla extract is a complex flavor, comprised of approximately 300 individual flavor components all working together to create it's rich flavor an bouquet. Floral aroma and bold cherry-chocolate flavor characterize the proprietary blend of Tahitian and Madagascar vanilla beans we used to create this extract. The end result is unique and balanced vanilla extract unmatched in our industry, making it our most versatile extract for any application.
Share your thoughts, leave a comment!
← Previous Post
Next Post →