Posted in Baking Recipes, Beverages, Drinks & Cocktails by Sarah
Homemade Irish Cream Liqueur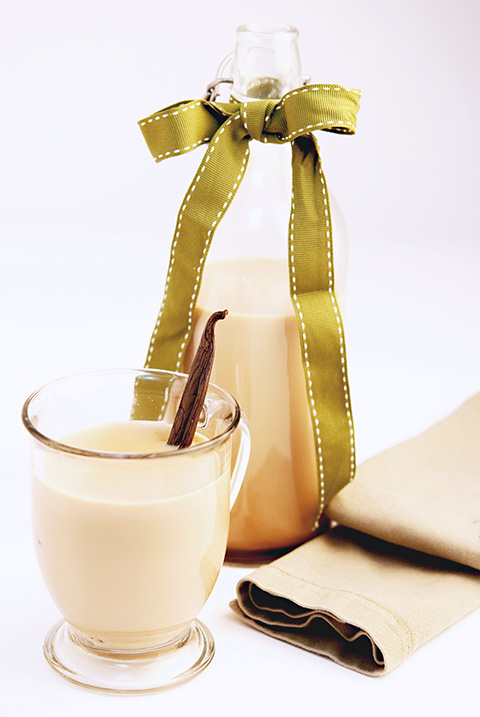 I am not Irish, not even a little bit. I do, however, enjoy an Irish coffee along with dessert or occasionally with brunch. In this post, I'll share with you how to make your own Homemade Irish Cream Liqueur. Never buy Bailey's again - this homemade Irish Cream Liqueur recipe is even better!
My husband and I recently went on a trip for the first time without the kids; it is amazing how much more smoothly the airline check-in process goes without kids in tow. One of the perks of traveling alone with my husband is that he has traveled a considerable amount for work and has achieved a certain perk status with the airlines. This usually means that the airlines will upgrade him and whomever he travels with to first class. Yah, for me!! I settled into my seat and breathed a sigh of relief; no dogs, no kids, no obligations for five whole days. Bring on a drink! The stewart very politely asked what he could bring me as my husband as we were waiting to take-off. Baileys and coffee seemed the most appropriate for an early morning flight. It was delicious and of course got me thinking about the perfect post for St. Patrick's Day!
Homemade Irish Cream is really easy to make. All of the ingredients are thrown together in a blender and the whole mixture is then chilled. No waiting for flavors to meld together or the liquor to age. The flavor is much fresher and the cost is considerably less than the commercially made products. Raise your glass in celebration of St. Patrick's Day, celebrate responsibly and send your friends home with a bottle of Homemade Irish Cream to enjoy throughout the year.
Share your thoughts, leave a comment!
← Previous Post
Next Post →