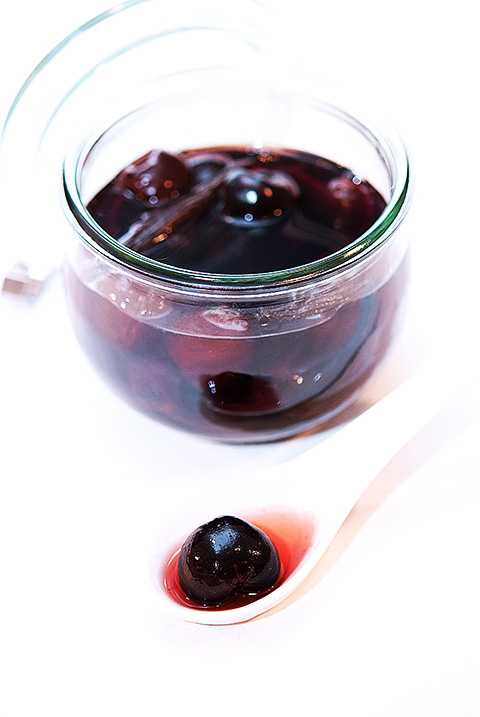 As a child, I spent a good amount of time at my grandparents' home. One of my most vivid memories of my days spent with them was the crisp fall mornings and afternoons my grandmother spent canning. She would can dozens of quarts of homegrown tomatoes, corn, and grape jelly. The grape jelly was always my favorite, made from huge silver skin grapes that grew on vines along the back row of the garden. Not all of the grapes made it into the jars that lined her kitchen counter. A few were eaten by my brothers and me, and more than a few were used as projectiles.
Although my grandparents are no longer with us, the memories of my time spent with them flood in when I pull out the canning jars. That being said, it's winter here in the Midwest and there is no fresh fruit anywhere in sight. But there is frozen fruit that was picked and frozen at the peak of the season. Frozen fruit is perfect for soaking in liquor, especially cherries. Simply thaw frozen whole cherries, place in your favorite lidded glass container, add about a cup of bourbon, and 1 whole Bourbon vanilla bean (cut in half and sliced lengthwise), then place in the fridge and let all the flavors meld together. Once the flavors have melded together, the bourbon soaked cherries can be spooned over ice cream, added to your favorite beverage, chopped and put in your favorite shortbread cookie recipe, or even tossed with blue cheese and crushed pecans and stuffed into a butterflied pork loin.
Drunken Cherries
Yields 10oz.
Ingredients:
10 oz.

whole frozen cherries (thawed)

8 oz.

Bourbon

¼ c.

superfine sugar
Directions:
Place thawed cherries into a lidded glass jar, combine sugar with bourbon in a sauce pan and heat until dissolved. Let cool and pour into jar on top of cherries. Slice the vanilla bean in half and then lengthwise. Place into the jar and pushed down into the cherries. Place the lid of the jar on and refrigerate, the cherries can keep up to 4 weeks.
Share your thoughts, leave a comment