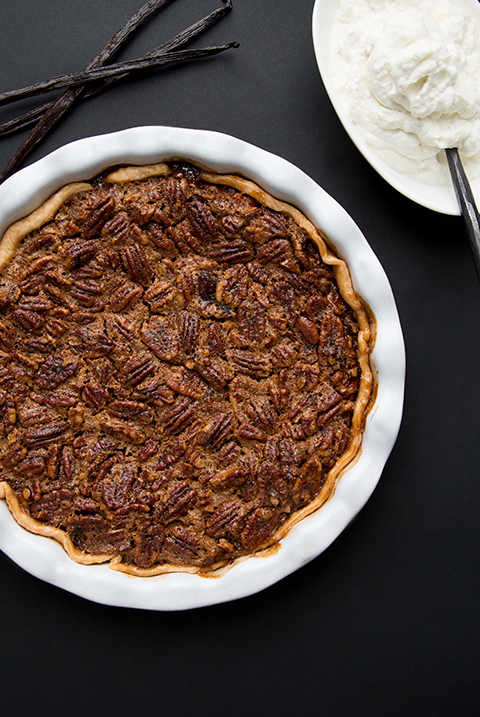 It's October and the holiday season is fast approaching! The year has flown by and I for one cannot believe it almost time to start holiday baking. If you reside in the United States you will most likely agree with me that pumpkin and pecan pie is the traditional dessert offered at Thanksgiving. Occasionally an apple pie is created for those who loathe pumpkin or have an allergy to nuts, but traditionally pecan and pumpkin grace our tables.
What are the origins of pecan pie? Many say it originated in the southern states while others are insistent that New Orleans is where it all began. My husband's grandmother, a native of North Carolina, made the most glorious pecan pie. Perfectly flaky crust, a rich caramel flavored base and perfectly toasted pecans graced the top. Later in life, I asked her how she created this utterly delicious dessert. Her response was "honey, I want you to write this down… go to the pantry; grab a bottle of Karo syrup. Turn it around. Follow the recipe." She was quite the character!
Over the years I have altered the recipe to include different spices. I have chosen to substitute white sugar for brown sugar. I like the molasses flavor it brings to the pie. This year I decided to experiment with a few exotic spices that our sister company, SpiceJungle, offers. Chinese five spice was definitely one of my favorites!
Chinese five spice is a mixture of star anise, cloves, cinnamon, Szechuan peppers and ground fennel. The combination of these spices provides a fragrant and pleasant warming flavor to all your holiday treats. Chinese five spice powder can easily overwhelm delicate flavors so please utilize the spice sparingly. It is the perfect spice for lamb, beef, venison, root vegetables or boldly flavored desserts and pastries.
Spiced Pecan Pie
Yields 6-8 servings
Ingredients:
1

pie dough round (choose your favorite store bought or homemade)

3/4 stick

unsalted butter

1 1/4 cups

packed light brown sugar

3/4 cup

light corn syrup

2 teaspoons

Beanilla vanilla extract

1 teaspoon

Chinese five spice

1/4 teaspoon

salt

3 large

eggs

2 cups

pecan halves (1/2 pound)
Directions:
Preheat oven to 350°F
Roll out dough on a lightly floured surface with a lightly floured rolling pin into a 12-inch round and fit into a 9-inch pie plate. Trim edge, leaving a 1/2-inch overhang. Fold overhang under and lightly press against rim of pie plate, then crimp decoratively. Lightly prick bottom all over with a fork. Chill until firm, at least 30 minutes (or freeze 10 minutes).
Meanwhile, melt butter in a small heavy saucepan over medium heat. Add brown sugar, whisking until smooth. Remove from heat and whisk in corn syrup, vanilla, Chinese five spice and salt. Lightly beat eggs in a medium bowl, then whisk in corn syrup mixture.
Put pecans in pie shell and pour corn syrup mixture evenly over them. Bake on hot baking sheet until filling is set, 50 minutes to 1 hour. Cool to room temperature and refrigerate.
Serve with vanilla infused whipped cream
Share your thoughts, leave a comment