Easter Cupcake Ideas: The Chicken Or The Egg?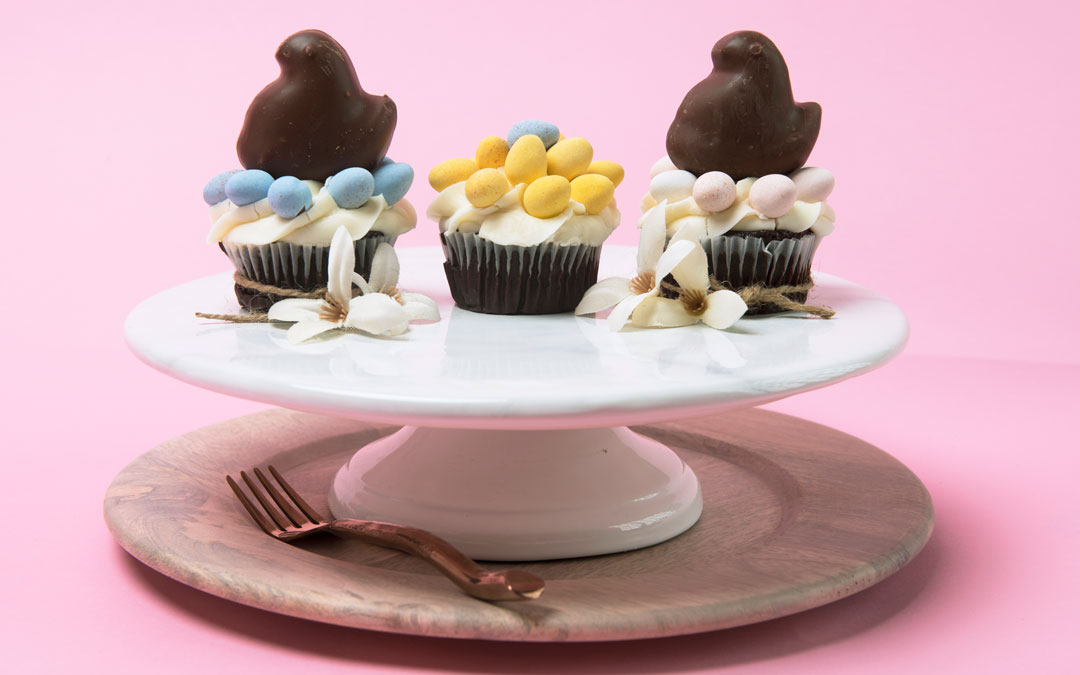 What came first: the chicken or the egg? It's an age-old question, which has been pondered by philosophers for millennia. There is a scientific response, of course, as well as a metaphorical one. But with Easter nearly upon us, we have come up with an answer of our own: it doesn't matter which came first when you can use both to create some delightfully adorable Easter cupcake.
We start with decadent dark chocolate cupcakes, which we take to the next level by adding a homemade vanilla bean buttercream frosting, made with real Madagascar vanilla. Topped with some pastel-colored candy eggs and chocolate chicks, these tasty treats make for a unique Easter cupcake idea and a perfect way to celebrate Easter, the arrival of spring, or simply your desire to devour something delicious.
The Chicken or The Egg Easter Cupcake Recipe
Yields 5-6 cupcakes
Ingredients:
2 cups 

all-purpose flour

2/3 cup 

dark chocolate cocoa powder Dutch-processed

7/8 teaspoon 

baking powder

1 teaspoon 

baking soda

1/3 teaspoon 

salt

3/4 cup (1 1/2 sticks) 

butter, softened

1 3/4 cups 

granulated sugar

2 ½ teaspoons 

Madagascar vanilla extract

2

large eggs

¾ cup 

hot water

Candy coated pastel eggs

Chocolate Chick
Directions:
Preheat oven to 350° F. Spray a large muffin tin with pan spray and set aside. Combine the flour, baking powder, baking soda, cocoa and salt in medium bowl. Cream together butter, sugar, and vanilla extract in a large mixer bowl. Add eggs one at a time, beating well after each addition. Gradually beat in flour mixture alternately with water. Pour ¾ full into a prepared muffin pan.

Bake at 350 degrees for 25 to 35 minutes or until wooden pick inserted in center comes out clean. Cool in pan(s) for 15 minutes; invert onto wire racks to cool completely.
Vanilla Bean Buttercream Frosting
Ingredients:
½ cup

salted butter, softened

½ cup

vegetable shortening

2

Madagascar Bourbon vanilla beans (cut and scraped)

2 teaspoons

Madagascar Bourbon vanilla extract

4 cups

confectioners' sugar

3-5 tablespoons

heavy cream
Directions:
Combine butter, shortening, and vanilla bean scrapings, and vanilla extract in the bowl of a stand mixer. Beat until creamy. Add confectioners' sugar, one cup at a time, until incorporated. Add heavy cream until desired consistency is reached.
Decorate cupcakes with frosting, and top with candy eggs and chocolate chicks.
Share your thoughts, leave a comment