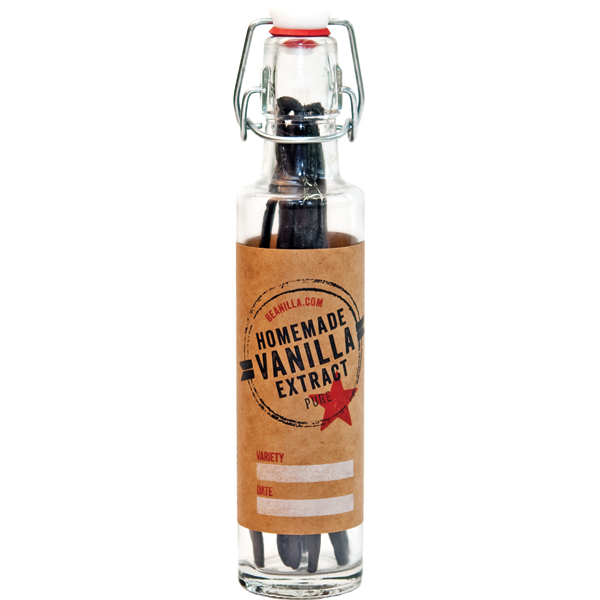 Pure Vanilla Extract. Prized for its rich, complex flavor and incredibly smooth aroma, pure vanilla extract should be a mainstay in a culinary enthusiast's kitchen. There is no substitute for quality and flavor. The difference between pure vanilla and imitation vanilla is simple. Pure vanilla extract is made from whole vanilla beans extracted using 35%+ alcohol - that's it! Don't be fooled by extracts that claim to be pure; imitation and clear vanilla utilizes artificial flavors and harmful chemicals. That big bottle of Mexican vanilla (that sort of smells like suntan lotion); the one you brought back home from your vacation abroad, is likely not even vanilla at all...
So how do you absolutely ensure that you are using pure vanilla? You make it yourself! The best part about homemade vanilla extract is how easy it can be made at home. Making vanilla extract is a fun and easy way to get the whole family working together in the kitchen.
At Beanilla we recognize this, and we have worked long and hard to revamp our homemade vanilla infusion kit to reflect this standard of quality. We are confident that you will agree that not only will our new and improved infusion kit provide you with the pure quality extract you desire, but it will add some style to your kitchen as well.
Printed on environmentally friendly, 100% recyclable and biodegradable kraft paper, our new label will not be hiding in your pantry. Complete with fun, custom artwork and easy to follow instructions, this is a fun project that will bring the whole family to the kitchen! And since we know life can get a bit crazy sometimes, we added a special section to etch your start date onto the label itself so you know the minute your creation is ready to go. You're welcome.
Accompanying our new and improved label is a beautiful 8.5 oz bottle imported directly from Florence, Italy, made from the highest quality Italian glass. You won't find this bottle anywhere else! Pairing up with this rare and beautiful glass bottle is everyone's favorite swing-top lid. Popular for its tight seal and inability to be lost in a chaotic kitchen, it is the perfect match to a wonderful bottle.
Of course, not everything could be changed about an already great product. Still included are seven premium grade A vanilla beans with six varieties to choose from. Try them all or stick to a favorite!
Whether you are a seasoned baker, just getting started or don't feel like procrastinating your holiday shopping this year, look no further than our new and improved infusion kit for making Pure Vanilla Extract. Making vanilla extract is a fun, easy way to bring a favorite recipe to the next level. Whether you decide to try out our new extract kit first hand, or give it as a gift this holiday season, we are sure you will agree that it's good 'til the last drop.
Cheers!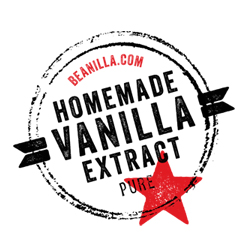 Contents: 7 Whole Vanilla Beans
Share your thoughts, leave a comment