Posted in Baking Recipes, Cookies, Brownies & Bars by Sarah
Orange Cream Brownies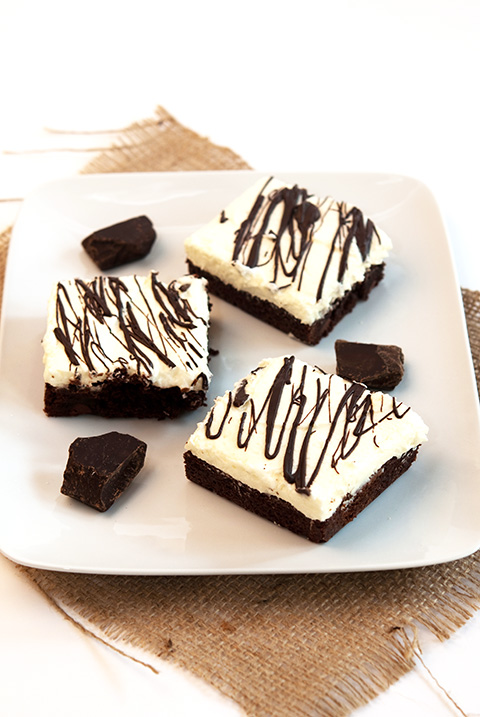 Grocery shopping when you're a kid can be downright monotonous. Walking behind one of your parents while they decide which macaroni and cheese was a better buy was never my idea of fun; except when we were bribed to be on our best behavior. This meant that my brother's and I would break off from our macaroni and cheese indecisive parents and beeline for the Brach's candy bins. Brightly colored hard candies sat next to soft and chewy fruit slices. Ultimately I would choose the wrapped chocolate creams. Raspberry, vanilla, maple and orange were just a few of the flavors they had to offer. More often than not my perfectly measured bag of treats would consist of a few raspberry, perhaps a vanilla, but mostly orange creams. I loved how the orange flavoring played beautifully with the slight bitterness of the dark chocolate. I haven't been to the candy bins in years but the allure of dark chocolate and orange cream still calls my name from time to time.
In an attempt to recreate the flavors of this beloved childhood treat I started with a rich and chewy brownie base, smothered it in a creamy orange buttercream and drizzled it with decadent dark chocolate. Beanilla carries an extensive collection of delicious flavorings and extracts. Our Natural Organic Orange Extract will instantly remind you of a freshly picked orange. The bright, natural tasting orange flavor will enhance just about any baked good, drink or pastry you can create. It is perfect in this recipe!
Share your thoughts, leave a comment!
← Previous Post
Next Post →