Roasted Vanilla Acorn Squash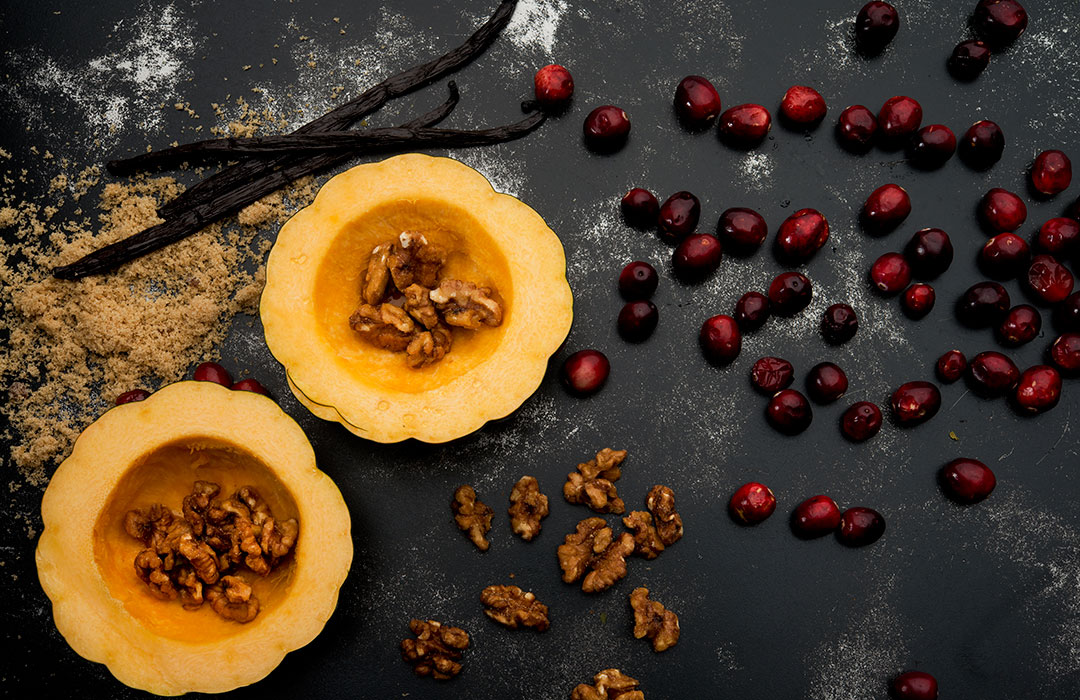 Fall is finally upon us! While we may be a little sad to see the end of summer, the cooler temperatures mean we can finally turn on the oven again. We love spending the summer outside firing up the grill, but there's nothing like the warm (literally), cozy feeling of roasting and baking your way through the colder months. The Thanksgiving turkey and pumpkin pie are still a little way off, but we're already getting into the harvest spirit with one of our fall favorites: acorn squash. This roasted stuffed acorn squash recipe is easy, elegant, and works well as either a side or a meal unto itself.
While most people think of and treat squashes as vegetables, they are technically fruits. Acorn squash is indigenous to the western hemisphere, most likely originating in Mexico and Central America. It's believed that native peoples had been using squash as a food source for as long as 8,000 years before Columbus found his way to the Americas. Early forms of acorn squash would have been mainly valued for their seeds, as the flesh was too hard to eat. Through selective cultivation, the fleshier version of acorn squash we enjoy today was developed. When the first colonists settled in New England, they were initially unimpressed by squash. However, they quickly warmed up to the plant when they discovered its ability to survive long-term storage and versatility in a number of preparations.
Today, acorn squash is a fall and winter staple in many kitchens. It can be an excellent addition to any meal and is easy to prepare. Roasting brings out the squash's inherent sweetness, and a simple touch of butter and salt is all the seasoning you need. Although we often favor simplicity, it's hard not to look for heartier, more comforting foods to help us get through fall and winter. To that end, this recipe includes the addition of toasted walnuts, brown sugar, and cranberries to add some extra texture and sweetness. But what takes things to the next level is the use of a real Madagascar Bourbon vanilla bean to add a rich, creamy note that will keep your whole family coming back for more.
Roasted Vanilla Acorn Squash Recipe
Yields 4 servings
Ingredients:
2

acorn squashes, halved, with seeds removed

4 Tablespoons

butter

4 Tablespoons

brown sugar

1/3 cup

toasted walnuts

1

Madagascar Bourbon Vanilla Bean, (split and scraped)

½ cup

cranberries

Salt,

to taste
Directions:
Place the acorn squash halves onto a sheet tray covered with parchment paper, flesh side up. Place 1 tablespoon of butter in the center of each squash. In a medium bowl toss together the brown sugar, walnuts, vanilla bean scrapings, cranberries, and salt. Divide the mixture among the four halves of the squash. Bake at 375 degrees for 45-50 minutes until the squash is soft and golden brown.
Serve immediately.
Share your thoughts, leave a comment