Dark Chocolate Eggnog Cupcakes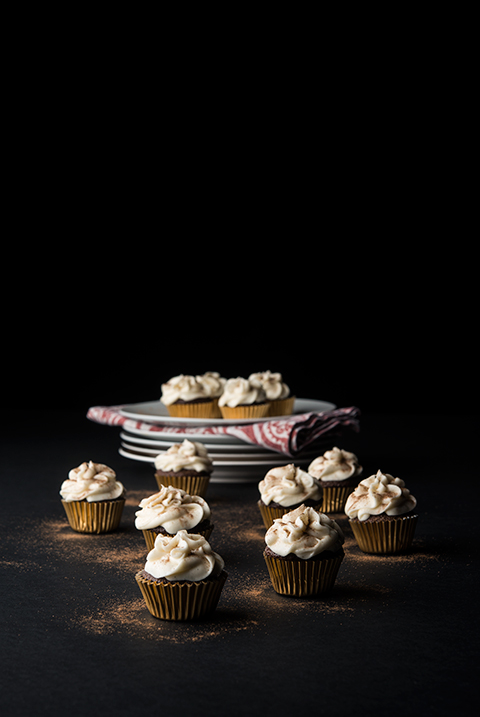 It's hard to believe Christmas is almost here! Holiday parties and family gatherings seem to be popping up all over, and with them comes one of the best parts of the season: baking. While various types of cookies tend to dominate the landscape on every sweets table this time of year, we've got a more unique treat that's sure to become a seasonal sensation. These dark chocolate eggnog cupcakes are the best gift you can give your taste buds for the holidays.
The exact origins of eggnog are subject to debate, though the term "nog" originally referred to a type of strong ale. The drink itself has roots in posset, a medieval British beverage made with hot milk, combined with either wine or beer, and flavored with various spices. As early as the 13th centuries, some monks were known to have made a form of posset that contained eggs. This evolved into a drink called an Egg Flip, which was popular among British aristocrats, because eggs and milk were seen as status symbols, due to their scarcity.
Some sources believe that eggnog, as we know it today, is an American invention. Easy access to farm and dairy products in the colonies made eggnog quite popular in the fledgling nation. George Washington even had his own eggnog recipe, which he often served to guests of his home. It was also in America that eggnog became specifically tied to the holidays, though no one has been able to pinpoint exactly when or how that happened.
While we usually like to cook everything from scratch, we're taking things a little easier with this holiday cupcake recipe. You can certainly use your favorite chocolate cake recipe, but you can also cheat a little by using a store-bought mix. The important part is the homemade eggnog frosting, which combines all the flavors of the holidays into one delectable little dollop. Whether you use spiked or non-alcoholic eggnog is up to you (and depends on who you're sharing with), but the use of pure Madagascar vanilla extract, freshly grated nutmeg, and the finest cinnamon will guarantee that anyone who tries these cupcakes will have the happiest of holidays.
Share your thoughts, leave a comment