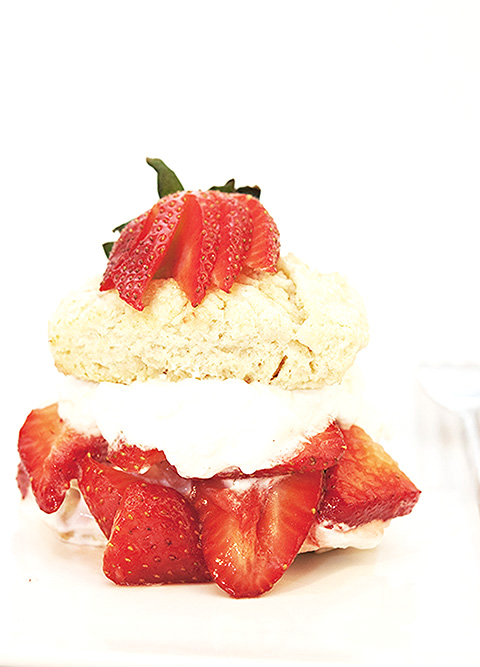 Spring is almost here. I could not be more excited!
As a child, spring brought mud puddles, thunderstorms and tulips. Tulips are a garden staple here in Michigan. You know that spring is here to stay when tulips begin to pop through the cold winter soil. The tulips haven't shown up yet, and there is still a thin layer of snow in our front yard, but that doesn't mean I can't celebrate spring's impending arrival with a classic spring dessert.
This post was posted in Desserts, Recipes, Vanilla Beans and was tagged with Strawberries, Spring
11 Mar
Posted in Breakfast and Brunch, Recipes by Sarah | 0 comments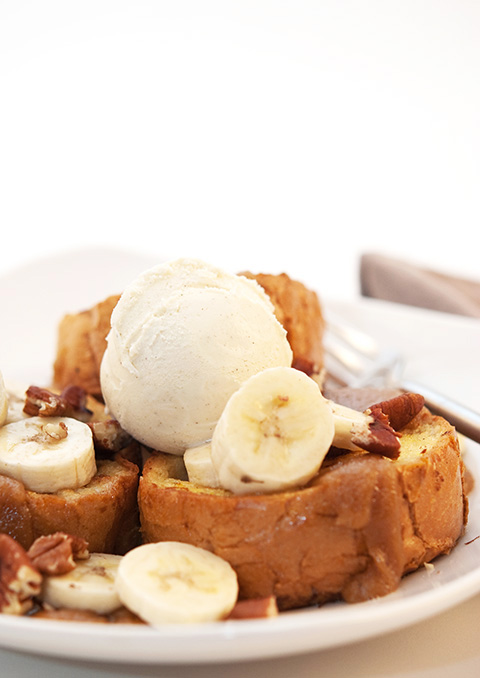 Have you ever had something so simple, but deliciously decadent at a restaurant that you risked embarrassing your dining companions to take a photo of it? This happened to me while recently on vacation. The waiter arrived with my selection and it looked so delicious and beautiful, that I struggled with the dilemma of standing up, hauling out my professional camera and taking the shot. I am often faced with this dilemma, and many times I have passed up the opportunity to photograph an amazing dish as a courtesy to fellow diners. However, there times that I regret it later! This time, however, I forewarned my companions, and chalked it up to research for work. I can always blame it on my relentless pursuit of photographic and culinary perfection! I am so thrilled that I did because bananas foster french toast was one of the most decadent and beautiful breakfast entrees I had had in a very long time. The soft egg-based french toast was grilled to perfection -- not too crunchy and definitely not soggy. Cascading over the top of the bread were toasted walnuts, fresh bananas, a brown-sugar caramel sauce and a scoop of Tahitian vanilla bean ice cream in the middle. "Yum" does not even begin to describe this sweet breakfast masterpiece.
This post was posted in Breakfast and Brunch, Recipes
07 Mar
Posted in Breakfast and Brunch, Recipes by Sarah | 0 comments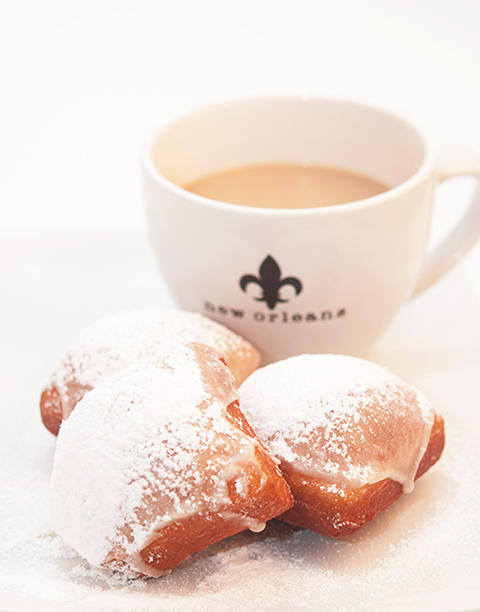 The beignet is a classic New Orleans breakfast treat. It is a staple in the New Orleans food culture, dating back to the early 1900's. Café Du Monde is the most famous and well recognized purveyor of beignets, but many bakeries in and around the French quarter have their own recipes for these light and filling breakfast treats.
The easiest and simplest way to describe a beignet is a cross between a rich and dense egg-based French pastry (such as a profiterole) and a classic American yeast donut. The beignet dough is fried to a light golden brown and covered in powdered sugar. They are served in sets of three and brought to your table piping hot. A simple pairing of a classic café au lait with your beignet, and you will feel as though you are transported to French Quarter café.
This post was posted in Breakfast and Brunch, Recipes
04 Mar
Posted in Breakfast and Brunch, Recipes, Snacks by Sarah | 0 comments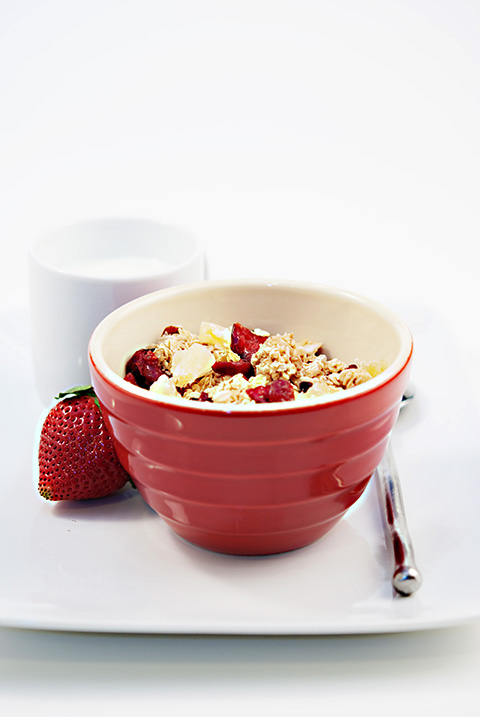 Granola can be a pretty boring breakfast option. It often is dry and practically void of flavor. In addition to that, most store-bought versions are loaded with fat, sugar and preservatives (you thought you were being healthy, didn't you!?). However, Homemade granola is easy to create in your own kitchen. In addition to ease of preparation, it is easily portioned and can keep for up to a month in a tightly closed container. The addition of dried exotic fruits, sweet coconut and maybe the occasional dark chocolate chip adds flavor and texture to a basic, tasteless granola. Adding Tahitian vanilla beans amps up the flavor even more; the sweet, fruity and floral notes of the beans mix with the dried fruits and coconut to create an exciting granola you will jump out of bed for. Plus, it looks beautiful in the bowl!
This post was posted in Breakfast and Brunch, Recipes, Snacks
28 Feb
Posted in Cookies & Baked Goods, Recipes by Sarah | 0 comments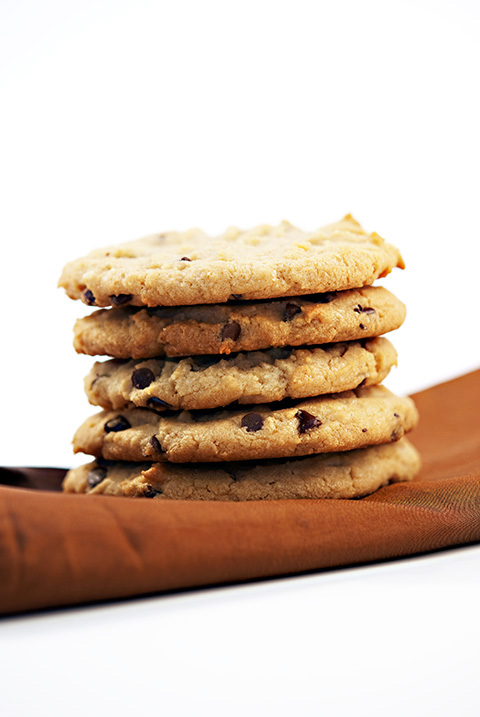 Did you ever have a time in your life where you ate so much of one particular food item that you can't stand the smell, taste or look of that item any longer? For me, it is the peanut butter cookie. I know you are thinking, "How could you not like peanut butter cookies?" I have one very good reason...my father! My father is a wonderful man that I truly enjoy spending time with, but when he becomes fixated on a certain food item, it tends to make an appearance many, many times! A good example is peanut butter cookies. He decided that homemade peanut butter cookies would be a thoughtful and delicious addition to our school lunches… and they were… for the first week. After a month of peanut butter cookies making a daily appearance, we began to tire of them. At two months, we kindly asked him to please refrain from putting them in the lunches (I'm pretty sure it wasn't so eloquently asked, but I think he finally got the point). We were wrong. The peanut butter cookies continued to make an appearance, but this time they were topped with a Hershey kiss. This did not improve upon them! Thankfully, he finally grew tired of them himself, and one glorious day, they were no longer gracing the top of our lunches, halleluja! This was over 25 years ago and, until recently, I would not make any peanut butter cookies, often blaming food allergies for their lack of appearance in our home.
This post was posted in Cookies & Baked Goods, Recipes and was tagged with Peanut Butter
25 Feb
Posted in Cookies & Baked Goods, Recipes by Sarah | 0 comments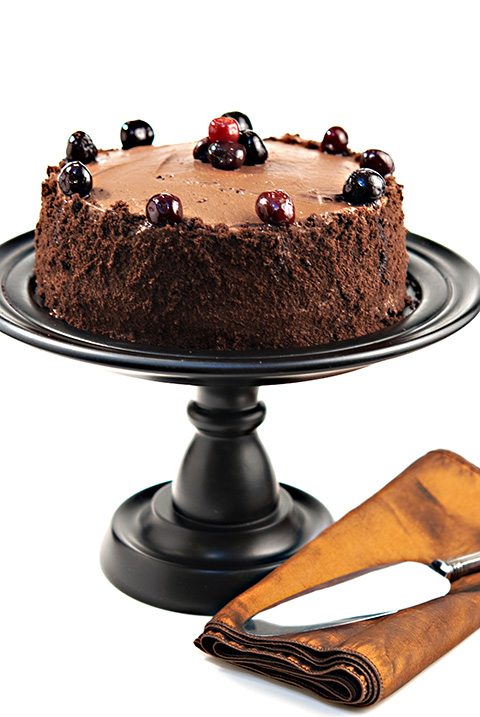 Chocolate cake makes me weak in the knees. It's not just, "That dessert looks good. I think I will throw all inclinations of eating healthy today out the window," but, "I want to sit down and eat a giant slice cold from the fridge at six in the morning with a big glass of cold milk."
Luckily, I was able to do just that this morning! I recently posted a recipe for drunken cherries on the Beanilla blog. As I sat down to plan out my posts for the week, I remembered a previous post for drunken cherries. I grabbed them out of the fridge and pried off the lid. The most amazing aroma greeted me; hints of almond, beautiful vanilla beans from Beanilla, and cherries. I knew that those cherries were crying out to be paired with rich chocolate cake. So, I made one, and guess what? It was amazing! My son begged for a piece, my husband (who doesn't eat dessert) ate an entire slice and me, well... I had two! I know you're thinking, "You're a pastry chef. You probably eat sweets all the time".  But that is simply not the case......
This post was posted in Cookies & Baked Goods, Recipes
19 Feb
Posted in Desserts, Recipes by Sarah | 0 comments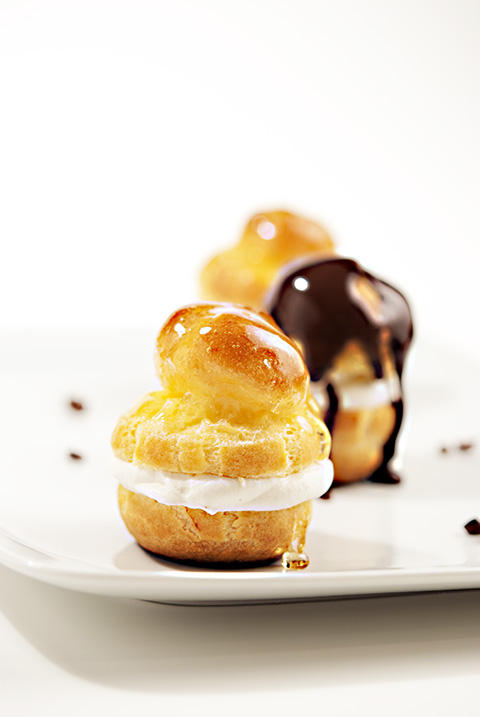 Profiteroles, or cream puffs as they are called here in the states, are a classic French dessert. You will most likely find them filled with a sweet whipped cream and garnished with a dusting of powdered sugar or hard caramel. My favorite is the latter version. I vividly remember going to the patisserie in Paris, and blissfully enjoying this light and filling pastry. I love the chewy texture of the Pâte à Choux (cream puff dough) the soft cream filling and the crunchy texture of the hard caramel glaze.
Pâte à Choux was one of the first desserts that I made and photographed after acquiring my first DSLR camera. It was also the first time that I realized that becoming a pastry chef may be well suited to me. Pâte à Choux may look daunting, but if you follow the steps to creating it, it is a very simple dough with extraordinary results. The dough is very elastic and sticky, but once you pipe out those little rounds and place them in the oven a little bit of magic happens. When the dough hits the hot air, the profiterole (cream puff) dough begins to rise to form a "puff", enabling you to fill them with a sweet and delicious filling of your choice. Be sure to bake them until they sound hollow when baking sheet is lightly tapped on, or they will deflate and you will ultimately have flat cream puffs (a lesson I learned once or twice).
This post was posted in Desserts, Recipes
17 Feb
Posted in Desserts, Recipes by Sarah | 0 comments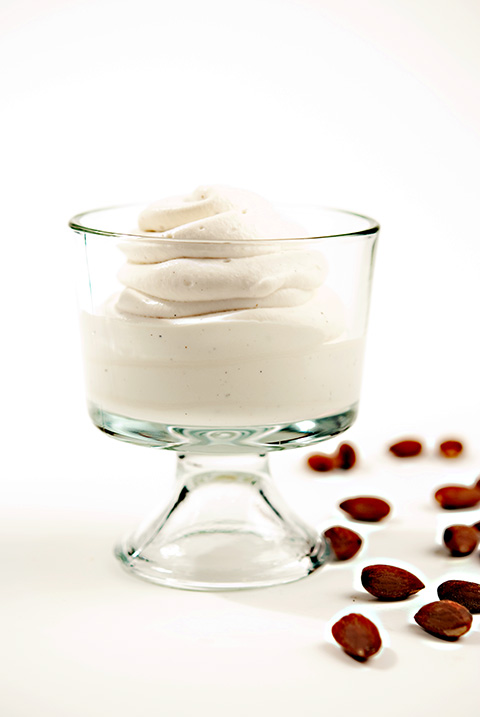 Almonds and vanilla are a match made in heaven. Tahitian vanilla beans, fresh roasted almonds and sweet cream provide a decadent base for the second part of a scrumptious recipe I guarantee you will drool over.  You may wonder what I am talking about... creamy, rich and decadent almond vanilla whipped cream. So deceptively simple to prepare, but impossible to resist.
This post was posted in Desserts, Recipes
15 Feb
Posted in Cookies & Baked Goods, Recipes by Sarah | 0 comments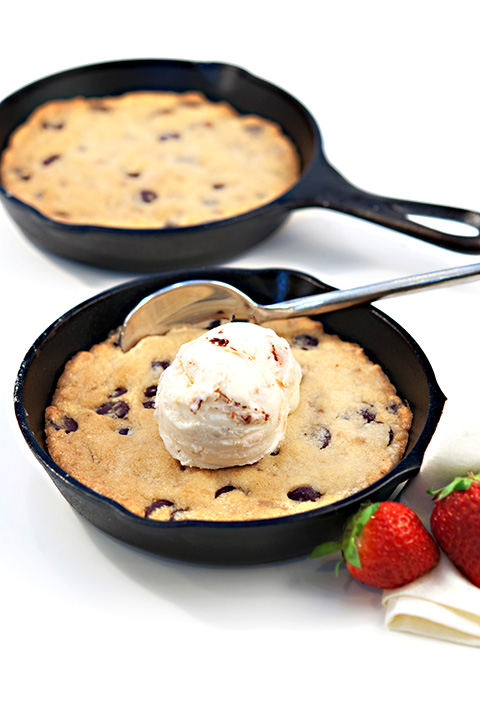 There is nothing quite as delicious as a chocolate chip cookie straight from the oven! Hot and delicious, the chocolate still melted and the center of the cookie so soft and delicious it breaks apart in your hand. My mouth waters just thinking about it!
This post was posted in Cookies & Baked Goods, Recipes
13 Feb
Posted in Drinks & Cocktails, Recipes, Snacks by Sarah | 0 comments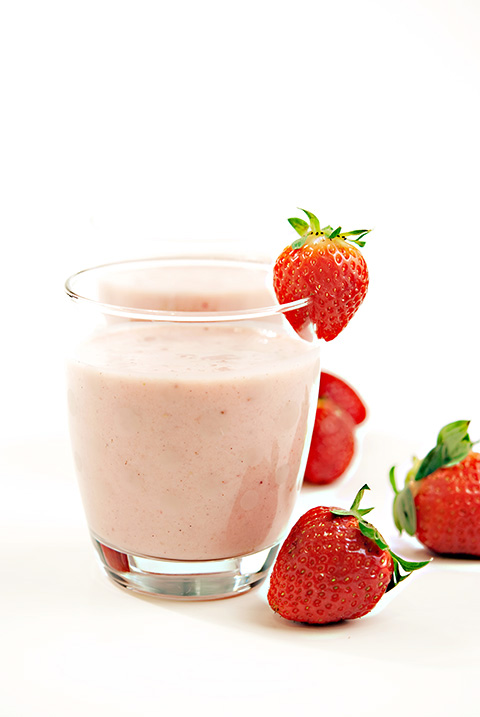 I know what you are thinking…….. Ugh, not another smoothie recipe! This smoothie recipe is not your typical smoothie. It's special just like the person I make it for. My daughter is a vegetarian, and she has been for the majority of her life. Throughout her life it has been a struggle to prepare nutritious and protein-packed meals for her (especially when she only wanted to eat cheese. Cheese smoothies are definitely not palatable!)
This post was posted in Drinks & Cocktails, Recipes, Snacks