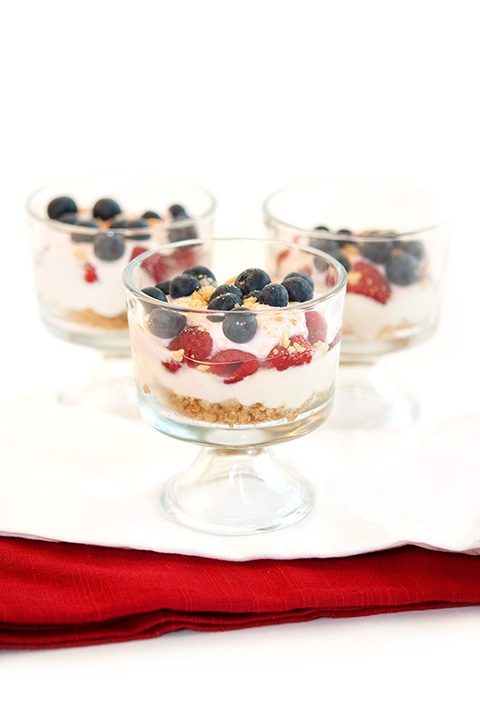 Fireworks, picnics, cottages, bon fires...... If you live in the United States, the most beloved of all summer holidays is the Fourth of July. A time when our country celebrates its independence from Great Britain. A time for family, friends and celebration with food and drinks.
This post was posted in Desserts, Recipes
27 May
Posted in Appetizers, Confections, Desserts, Recipes by Sarah | 0 comments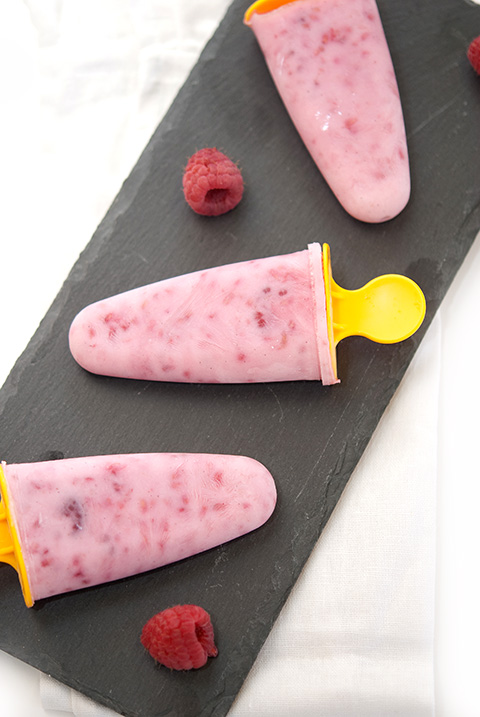 It's summer time, you are playing outside with your friends and you hear the familiar song of the ice cream truck. Instantly, you scatter to your houses asking (pleading with) your mother for money to buy a cold confection. You see him slowly come around the corner, your friends and you wait patiently as he makes his way down the street. Finally, he's here! So many choices plastered on the side of his truck. Do you want the bubble gum foot pop, the red white and blue firecracker pop or maybe the classic nutty cone. You settle on a the patriotic red, white and blue firecracker pop. Twenty minutes later, your face sticky in red and blue food coloring, you continue building your fort or riding bikes with friends. A garden hose at the end of the day turns into a make shift washroom to remove the dirt that has stuck to the red and blue drips on your face and hands.
This post was posted in Appetizers, Confections, Desserts, Recipes
06 Mar
Posted in Desserts, Recipes by Sarah | 0 comments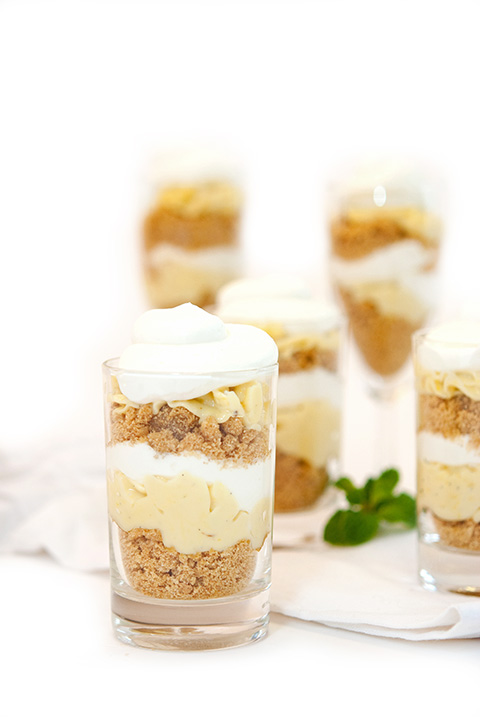 There is nothing quite as delicious as a key lime pie! The tart key lime filling mingles well with the sweet and buttery graham cracker crust, but let's not forget the whipped cream! Mounds of freshly whipped cream is an essential component to the perfect key lime pie. But let's be honest, unless you plan on eating the pie directly from the pie plate (which is perfectly acceptable), or you are hosting a beautiful plated dinner, hauling around a plate of pie at a party that is constantly slipping to the edge is a bit cumbersome. I have a solution! Key lime pie mini parfaits!
Portable and easy to eat in just a few bites, this parfait has all the components of a traditional key lime pie in a very easy to serve size.
This post was posted in Desserts, Recipes
03 Mar
Posted in Desserts, Recipes by Sarah | 0 comments
Just about everyone that I know can use a little sunshine in their lives right now. This is the time of year when the winter blues start to set in and the pristine white snow has lost its luster and appeal. We are all yearning for a peak of green grass and the first tiny crocuses to sprout from the frozen ground. While we are waiting anxiously for this to happen, why not bring a little warmth and sunshine into your cold winter day with a beautiful blood orange. Blood oranges look similar to any other citrus on the market; bright orange with a tinge of red on the skin. The red blush on the skin of the blood orange reveals only a glimpse of the beautiful bright red interior. Truly a stunning fruit...
This post was posted in Desserts, Recipes
02 Feb
Posted in Cookies & Baked Goods, Desserts, Recipes by Sarah | 0 comments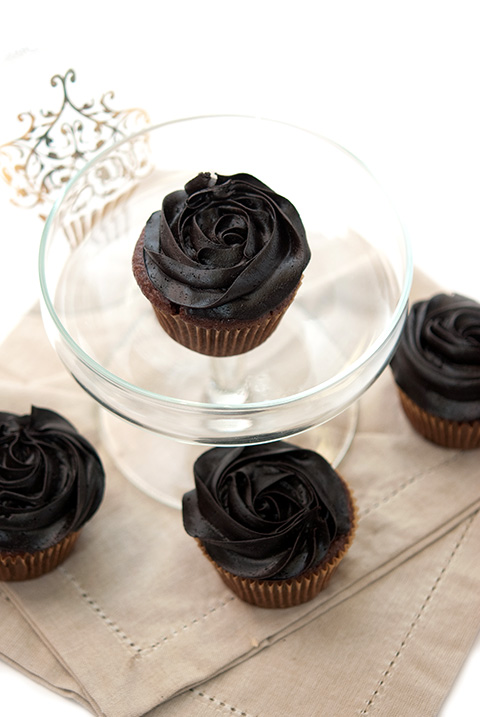 From time to time, even professional Pastry Chef's utilize store bought cake mixes! I have a recipe from my childhood that is the perfect example of this. The recipe is already multi-stepped without the addition of making a homemade batter; just like my mother used to make.
The first boxed cake mixes graced the store shelves in the early 1930's by the Duff Company who even offered gingerbread and molasses cake mixes. The mixes required only water and were not as big of a success as the company had hope for…
As the 1940's and 1950's approached, Pillsbury and Duncan Hines emerged with mixes that required the addition of eggs. Eggs not only made the cake moist and rich but gave the average housewife (of the time) more of a feeling that they made the cake from scratch. Cake mixes are now on every shelf and I can guarantee from time to time we will all utilize this time saver in our recipes!
This post was posted in Cookies & Baked Goods, Desserts, Recipes
26 Jan
Posted in Cookies & Baked Goods, Desserts, Recipes by Sarah | 0 comments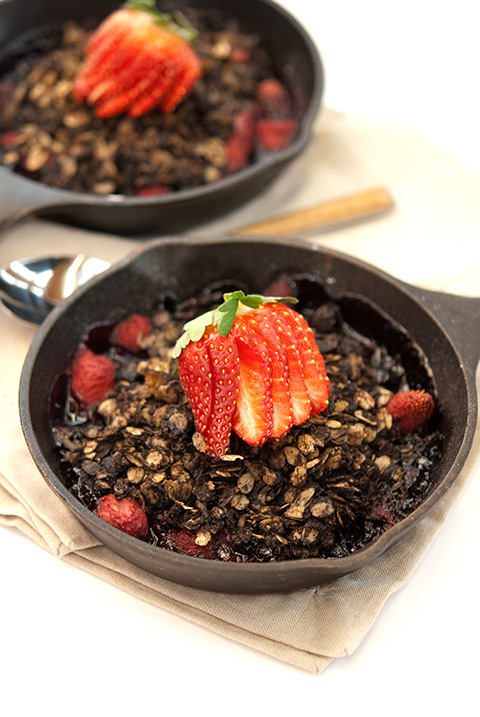 The origin of the crisp is decidedly an American invention. When it came to recipes, early settlers were often forced to use what was readily available and on hand. Early American settlers often improvised; they had limited access to ingredients or the ability to run to the store when needed. Quite often, each creation varied from the last; oats may not have been available so ground nuts were often substituted, or flour was used in its place. There are many variations of the crisp and many have different and interesting names given to them such as: grunt, cobbler, buckle, slump, pandowdy or even a sonker. Each recipe varies from region to region. The crisp or the cobbler is what many of us in the United States are familiar with. The cobbler has more of a biscuit or cake like crust while the crisp is traditionally made with oatmeal and ground nuts as a base.
Berry Chocolate crisp adds one more layer of flavor to a very simple and comforting dessert. Chocolate and Ugandan Vanilla beans! The addition of dark cocoa powder to the crisp topping adds a depth of flavor not often found in traditional crisps. Have you ever had chocolate covered strawberries? This dessert will satisfy your desire for chocolate, berries and a crisp topping all in one delicious bite!
This post was posted in Cookies & Baked Goods, Desserts, Recipes
14 Jan
Posted in Desserts, Recipes by Sarah | 0 comments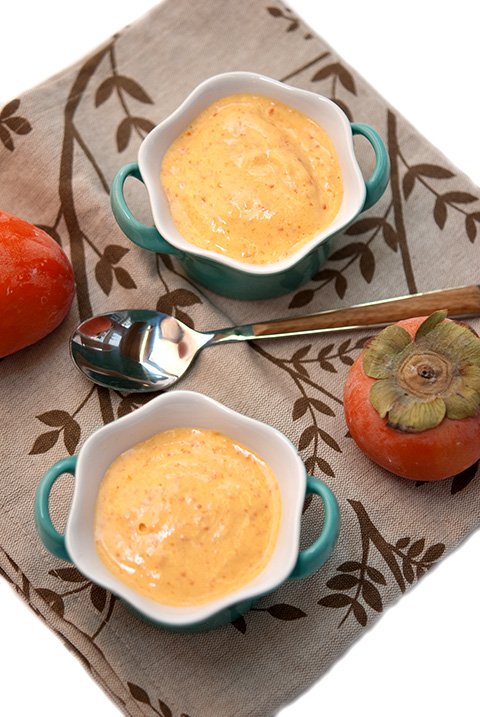 Persimmons are in season! This sweet and creamy fruit is very versatile, but can be a little intimidating a first glance. You may ask, "What is a persimmon, and how can I eat this beautiful, bright orange fruit?!"
This post was posted in Desserts, Recipes
29 Sep
Posted in Breakfast and Brunch, Desserts, Recipes by Sarah | 0 comments
Trying to get yourself ready for the day amongst the chatter of young children, the moodiness of a teenager and a spouse that can't seem to find the car keys is enough to make you want to pull your hair out! Getting any number of children, backpacks, lunches and maybe a spouse out the door is no easy task. Wouldn't it be nice to take a few minutes, grab a cup of coffee (or tea) and enjoy a slice of homemade sweet bread? A cup of caffeine and a slice of chocolate cappuccino bread can bring a much need energy boost to start your day off right.
Continue reading →
This post was posted in Breakfast and Brunch, Desserts, Recipes
12 Sep
Posted in Desserts, Recipes by Sarah | 0 comments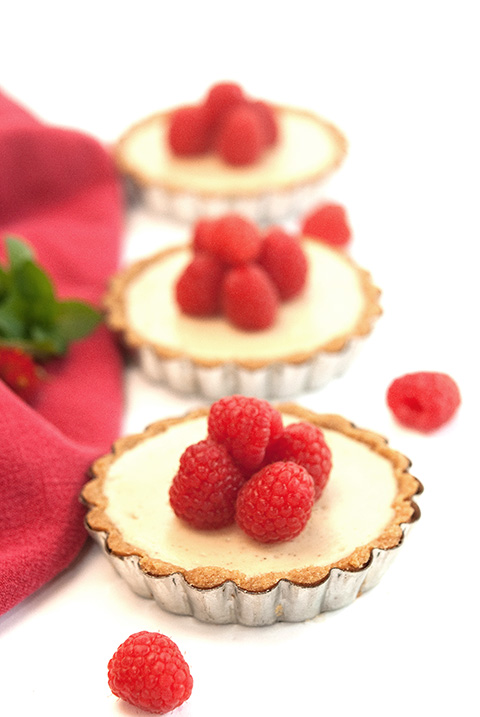 I grew up enjoying classic dense cheesecakes complete with graham cracker crust and a slightly sweet sour cream topping. On special occasions, sweet cherry pie filling would cascade over the side adding to the decadence of the cake. My mother was an accomplished cook and there was always some sort of pastry or dessert in the house. On holidays and special occasions we could count on her creating the most delicious and decadent treats. She made everything from homemade pies to crème filled chocolate cupcakes. The most memorable and often most requested was her sour cream cheesecake.
This post was posted in Desserts, Recipes and was tagged with Cheesecake
09 Sep
Posted in Desserts, Recipes by Sarah | 0 comments
The kids are back to school, the leaves are starting to turn and the Christmas decorations are beginning to show up in the big box stores..... What???? Christmas decorations already?! I don't know about you, but I am not quite ready to let go of the last bit of summer we have left! I stepped outside this morning and was hit with a wall of hot, humid air and thought to myself, "I am oddly okay with this." I know that in a few short weeks we will be bundled up in sweaters and blankets to watch Friday night football games and sipping on hot apple cider. So..... for now I'm savoring the hot sticky weather by making a very summery treat! Lemons are often associated with memories of warm sunny days, the smell of freshly mowed grass and a cold glass of refreshing lemonade savored on a hot sticky day. Throw in a few ripe red raspberries and you have the perfect summertime drink! Raspberry lemonade bars are that cool, refreshing glass of lemonade in a handy and very portable dessert. As many of you have already packed up for a last summer weekend at the beach, or your last weekend up north at the cottage, why not savor the last warm days of summer? I encourage you to make a batch of raspberry lemonade bars to enjoy it just a little bit more.